Literatura
This week we read La casa del árbol. Our objectives were:
understand what verbs are
use comprehension strategies such as making connections, visualizing, and self-questioning to construct meaning from the story during our first read
use comprehension skill compare and contrast as we read the story the second time
Matemáticas
This week we continued working with mental math and estimation. Our objectives were:
Use different strategies to add 2-digit numbers close to 100 mentally
Round numbers to estimate sums and difference
Use front-end estimation to estimate sums and differences
History & Geography
Social studies with Ms. Marci
This week we in our World Rivers unit we considered a river viewed from above and dangers and navigation of rivers. Some of our big questions were the difference between the source and the mouth of a river, as well as what dangers boats face on rivers. Together as a group we began filling in a chart on interesting facts about World Rivers.
Our objectives were to:
•  describe the mouth and the source of a river
•  refer to a map and identify the location of the Murray River
•  list at least two ways people use the Murray River
•  describe the dangers on the Mississippi River and the Ob River
•  locate the Mississippi River and the Ob River on a map
•  understand the meaning of the following vocabulary and phrase: drainage basin, orchard, vineyard, pasture, sandbar, current, tributary, swamp, wasteland, and "river pilot"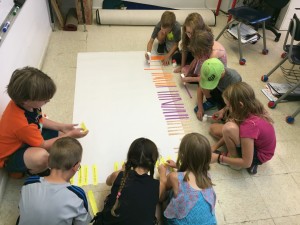 Social studies with Ms. Laura
This week we completed our study of The Geography Of The Americas by learning about the seven more countries in South America.  We reviewed our unit by talking about North America, Central America, The West Indies and South America.  We had our assessment and worked together on a project about elevation, plotting the heights of cities close by, capitals of many of the countries studied in this unit and three mountain ranges:  The Appalachians, The Rockies and The Andes.  We enjoyed an 'end of unit' celebration!
Science
This week in our Animal Classification domain we learned about two groups of animals, amphibians and fish. Students worked on different classification charts in order to better understand how each group of animals has unique characteristics.  We also finished our animal shape poems. 
Our objectives this week were to:
•  explain that scientists classify animals in order to study them and show relationships
•  identify basic characteristics of fish and amphibians
•  classify  particular animals as fish
•  classify particular animals as amphibians
•  compare and contrast two groups of vertebrates
English Word Work
We took our spelling test on Friday. Everyone did great!  We had quite a few perfect scores.  A couple of students wrote stories with their spelling sorts for homework this week, I was quite impressed with the creativity these spelling words could inspire! In grammar we worked on verbs; present, past, future tense.  On Mondays the class will have the opportunity to go to our school library. They do not have to check out a new book each week.  I'm encouraging students to check out chapter books that they can take home and read for a while. I'm reminding Students to try to find a special place to put their book in order to keep track of them over the weeks that they have the book checked out.
Specialists
Character Education: I so enjoyed having the students bring in one of their "favorite things" over the past few weeks! It's such a fun "get to know you" activity. This took a bit more time than anticipated, so we are finishing up our theme on Manners next week and then will move on to our next theme: Friendship, Cooperation, and Teamwork. In K-3rd grades, we will be reading some great books including The Name Jar by Yangsook Choi, and Amos and Boris by William Steig. Our poem will be a seasonal one, called Something Called the Wild Geese by Rachel Lyman Field. Be sure to check the bulletin board to see more books, as well as the poem, song, and quote we'll focus on for the next several weeks.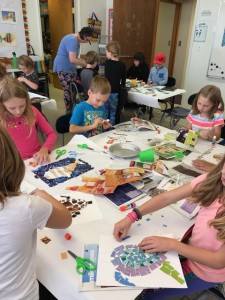 Art: The 2nd and 3rd graders started the school year with some fabulous sunflower paintings which we've all enjoyed on the bulletin board!
Next we learned about Ancient Roman mosaics, which are pictures made of glass or stone tesserae (tiles). The students learned that mosaics were most often used on floors and walls of ancient Roman buildings and homes.
After choosing a simple animal shape (fish, turtle, lizard), the students used magazine pages to cut out paper "tiles" to fill in the shapes. Then they made a background of somewhat contrasting colors. Lastly, they made a mosaic border. Some of these mosaic animals are camouflaged in their settings, but they're all very creative! Check them out on the bulletin board at school!
We also had time to start on an Australian Aboriginal Dot painting, using q-tips as our painting tools. The students are using the same animal shape as their mosaic, so we will be able to compare and contrast these different art techniques.
October Music with Ms. Erin
In September the Second and Third Grade class learned about Quarter, Half, and Whole notes, the American composer John Philip Sousa, Marches and how to march to a beat, 4/4 time signature, played fast and slow rhythms on the drums, learned the meaning of verse and refrain, sang Solfeggio, played the C Major scale on the electric piano, and sang the following songs:
– I've Been Working on the Railroad
– Li'l Liza Jane
– Clementine
– Good Bye Old Paint
– Alouette
For October we will be focusing on:
 – Reading treble clef notation
 – Time signatures 3/4 and 2/4
 – Clapping, drumming, and reading eighth notes
 – Singing a 'round'
 – Recognizing brass instruments in a symphony orchestra by listening to Rossini's 'William Tell Overture' and Mozart's Horn Concertos