Language Arts 
In Literacy we 
had a lot of fun finishing our garden plans and singing a fun song called
Comida Saludable
. Have your child sing it and show you the cool moves! We will be ready to plant our garden next Friday! You are all welcome to come join us! Please check with your child about the contribution to our garden project. We are hoping everyone has their plant by Friday!
We spent time this week doing our interactive read aloud The Call of the Wild, where we worked on different comprehension strategies such as visualizing, asking questions and making connections. This helped us transition to our work on our survival unit where students chose their endangered animal. We are all ready and excited to go in depth with our writing project next week!
I would like to take the time to congratulate our 3rd and 4th grade students for successfully completing puppet shows projects. I could not be any more proud of all of our talented students and the outstanding work they did during this project!
Math
In math this week we spent time reviewing homework and answering questions students encountered while working on their assignments. Not surprisingly, many of the questions were related to math story problems. Please remember that students have to go through multiple steps when solving story problems. That is why we spent more time solving problems in class collaboratively. We continued to review concepts seen during our unit as we will be having our geometry math assessment next week on Thursday and Friday. Please take the time to talk and review with your child vocabulary and concepts from this list:
angles
degrees
vertex
protractor
inner scale
outer scale
right angles
acute angles
obtuse angles
parallel lines
perpendicular lines
segments
quadrilaterals and their properties
congruency
combine and break apart shapes to make other shapes
make connections to real world objects
formulas used when calculating area and perimeter
Review of properties and attributes of squares and rectangles and use precise language to describe their characteristics.
Compose and decompose shapes.
Break up shapes made up of squares and rectangles.

In Social Studies & 
Science
What a fabulous week we had during our English part of the day!  The students' presentations on their biography research project this week were AMAZING!  They each did a fabulous job research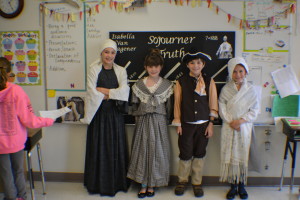 ing and becoming their famous American.  I was blown away by their quality work, professionalism, and poise.  Their work was definitely representative of students much older.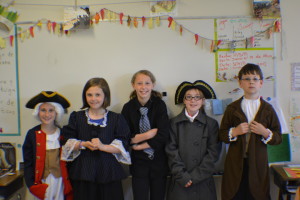 During the presentations we also worked on being good audience members, focusing on sk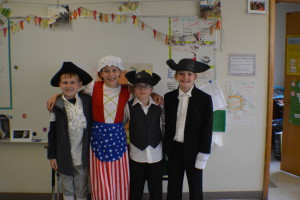 ills like active listening, and giving positive reinforcement.  They did a great job in this area as well.
The students were given their final spelling list of the year.  I gave them a challenge with this one.  If every student scored 10/10 on their final spelling test, we would have a class-wide reward.  Maybe spend some extra time practicing at home for this list!
Music
Students again shared melodies they had worked on at home on their recorders. We also worked in teams on how to play the class's composition, "Star, Rocking Star," on the recorders.