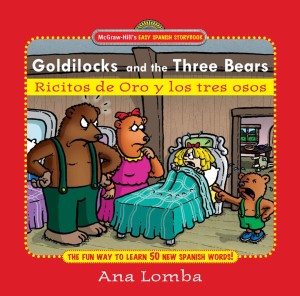 This week we continued working with "
Mi Familia
" "My Family" theme.
I used this theme as a guide to teach children more about families and what makes up a family. It's so lovely to see how they are learning in every class! We worked with reading the book "Ricitos de Oro y los Tres Osos" "Goldilocks and the Three Bears". With this classic and amazing story tale the kids learned new Spanish words such as:
 mamá oso/ mama bear,
We did great activities, such as painting bears faces, followed by recognition of three different sizes big/grande, medium/mediano, small/pequeño. As well, we drew family members into a house that they painted and built with  wood sticks. They colored, cut out, and arranged the pieces correctly.

 

The kids enjoyed this book and they had a good time learning our new words. In addition, we
 worked on different activities to help build up their fine motor skills.
This week we continued working with vowels. The kiddos recognized and practiced the vowel E e. They did different activities with the letter, such as finding the vowel E e in our daily reading, and handwriting
. This week the children learned words such as:
Estados Unidos/United States.
This week we started working with number 3. We had a fun time playing and recognizing the number, they traced the number with play dough, traced the number in the board, counting three bears/ tres osos, three chairs/tres sillas, and three camas/tres camas.

 
This month we continued
with the circle shape (círculo). I talked about it with the kiddos passing around the shape, so the children could examine this shape up close. We compared different sizes of the circle shape. We also played a game that involved finding circle shapes in our classroom, as making circles holding classmate's hands, making different sizes of circles with three kids as small, with six kids as medium, and with all class as big. Finally, we continued reviewing the color red, doing activities as paint, coloring, and finding red bears in the classroom.