Los tres osos
This week we had a lot of fun reading and acting out the Three Little Bears. We learned lots of new words and new concepts:
Grande—big
Mediano—medium
Pequeño—small
Oso—bear
Osito—little bear
Silla—chair
Cama—bed
Mesa—table
Dormitorio—bedroom
Avena—oatmeal
Tazón—bowl
Bosque—forest
Duro—hard
Blando—soft
Perfecto—perfect
Caliente—hot
Frío—cold
Ventana—window
Puerta—door
We sequenced the story, did a walk- on-rhyme where we act out parts of the story in order. We also worked on our cutting skills with Goldilock's hair. To reinforce size concepts at home point out, or have your kiddo point out, things that come in different sizes and then tell you what they are. Can they do it in Spanish and English? During meals talk about temperature.
A fun new song from this week:
Sol Solecito
Sol solecito, caliente me un poquito, (Sun, little sun, warm me up a little bit)
Hoy y mañana y toda la semana. (Today and tomorrow and all of the week.)
 Our calendar pattern this week was:
abuela, abuelo, abuela, abuelo
And our circle pattern was:
Rojo, azul, amarillo
 We worked on sequencing events from stories.
 We used pattern cards to continue patterns.
 We used tijeras/scissors and pegamento/glue to complete art projects.
Letras y Números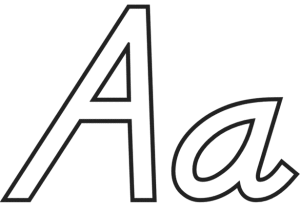 Each week we will be learning about a new letter of the alphabet. Depending on the skill level of your child they may simply be exposed to how the letter looks, the sound it makes and objects that begin with that sound. The more advanced their level the both upper and lower case. They may be asked to find objects or pictures of words that begin with that sound. It all depends on the skills of each child and how they are developing (sometimes age dependent). Please note: All letters and numbers Yes, your kiddos will count much higher. Right now we are working on number recognition, one-to-one correspondence, numerical order, writing numbers, etc.
This week: number 1, and Letter A a (the dentist's favorite letter, say "Ahhh")
Next week: number 1, and Letter E e (as in egg or elephant)