Servicios públicos
This week we introduced our new theme: Servicios públicos.   This week we read a great book highlighting many jobs.
bombero – fireman
cocinero – chef
dentista – dentist
maestra – teacher
médico – doctor
policía – police
You might notice your little one singing our Vamos a ser Bombero song.  This song is from Ana Lomba's  Play & Learn Spanish (book and CD combo). It is great fun to act out and sing!
firefighter—el bombero/la bombera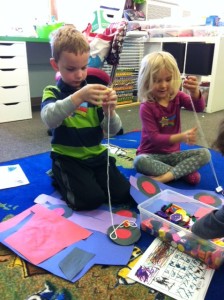 fire station—la estación de bomberos
fire truck—el camión de bomberos
siren—la sirena
fire hydrant—la boca de incendio
fire hose—la manguera
fire hose nozzle—la boca de manguera
fire helmet—el casco
fire suit—el traje de protección
oxygen tank—el tanque de oxígeno
Letras y Números
This week we introduced the letter X. The letter X typically makes the same sound in English and Spanish,. Sometimes we say the /s/ sound without any /k/ sound.
We worked with the number 15, quince, all week. 
Count, count, count! Count your snack, socks, toys, flowers, etc.
Point out numbers that you see in books and when you are out and about.
The kiddos also enjoyed  making multiplication fortune tellers for their 2s multiplication facts. They will be receiving their fortune teller for 3s,  upon mastery of their 2s facts.
I sent home a math packet to be finished over spring break. Please have your child complete it and bring it back our first day back.
Special Notes:
For the month of April we will learn all about our community workers.  police officers, postal workers, firemen, garbage men, and more.  Have any items that would help out kiddos explore the theme? (Medical supplies? Toothbrushes?)
Please send us your field trip pictures so we can add them to our collection of possible yearbook pics. (Or you can add yourself directely to the TreeRing site.)