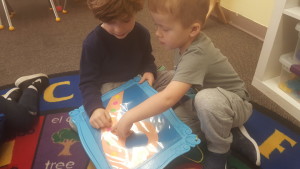 I can't believe how quickly the school year is going…February is almost here! This week, we continued working with Nursery Rhymes/ Rimas y Canciones. Thus, the kids learned the nursery rhyme "Cucu, Cantaba La Rana".
Cucu, cucu cantaba la rana,
Cucu, cucu pasó un caballero,
Cucu, cucu con capa y sombrero,
Cucu, cucu pasó una senora,
Cucu, cucu con traje de cola,
Cucu, cucu pasó un marinero,
Cucu, cucu se puso a bailar.
The kids surprised us with how much they really liked and enjoyed singing and dancing at the same time. They usually were so excited and waiting for the songs at the end of the day since we used to sing all songs that they learned during this month. This month they had the opportunity to explore different mechanism of language with music as well so they could explore the different sounds. The vocabulary that they learned this week related to the nursery rhyme was:
Rana/frog,
Caballero/gentlemen,
Señora/Mrs,
Marinero/sailor.
The kids did different activities related with "Cucu, cucu cantaba la rana" Rhyme, like making different kinds of frogs to help them to develop their fine motor skills.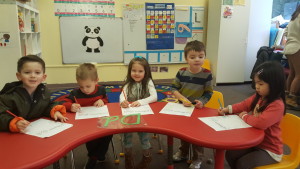 Letra
This week we learned all about the letter Dd/ letra Dd. Be sure to point out the letter that we practice when you are reading. The Spanish pronunciation of this letter is more like a hard /th/. Some examples,
dedo/finger,
dinosaurio/dinosaur,
delfin/ dolphin,
diez/ten,
dientes/tooth,
dulce/candy.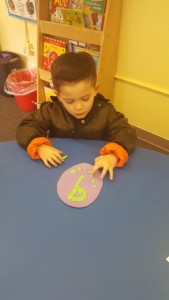 Números
We continued working with the number 9/número nueve. The kiddos did some different activities, like recognizing the number around the classroom, counting nine (9) different objects as blocks, fishes, and shapes. And then they traced the number.
La Figura y el Color
Learning shapes and colors helps kids to recognize objects as red blue, etc. round or square. This might seem like child's play, it's actually integral to a young child's cognitive development, and sets the stage for math concepts from sorting and patterning to geometry, and beyond! Thus, we continue working with kids every month doing different activities related to the shape and color of the month. This week we continued working with oval shape(óvalo) and color morado/ purple. Kids drew, colored and glued pieces of paper into the oval shape. Also, the kiddos went on a purple hunt, looking for the purple color around the classroom.   
Have a wonderful weekend 
Macky 🙂
Attachments area
Preview YouTube video CUCÚ CANTABA LA RANA ♫ Canciones Infantiles ♫ HD
CUCÚ CANTABA LA RANA ♫ Canciones Infantiles ♫ HD