¡Bienvenidos al año nuevo!
Welcome to all preschool families!  We are going to have so much fun, and learn so many new things together.
We are so happy to have your kids in our class!
This week we started working with a socials skills activity. This activity was a great way to ease anxious feelings while allowing children to celebrate differences amongst each other. We sat in a circle on the floor. (Circle sitting tends to make everyone equal and encourage participation to all kids.) I announced to them that this was "all about us" time. Everyone introduced themselves and shared some good memories with their parents, how much they love them! It was a wonderful activity. As well, we are working with "My family" topic throughout the month of September. We will discuss
how many members of the family they have and what they love most about each of them.  We will also talk about
 the importance of having a family.
This week, we read Tu Mamá Es Una LLama/Llama llama misses mamá.
"It's Llama Llama's first day of preschool! And Llama Llama's mama makes sure he's ready. They meet the teachers. See the other children. Look at all the books and games. But then it's time for Mama to leave. And suddenly Llama Llama isn't so excited anymore." This is very similar to kiddos that attend the first day of school, but after a few uncertain moments they realize how much fun they are having and that they have an awesome experience. Kids enjoyed this book.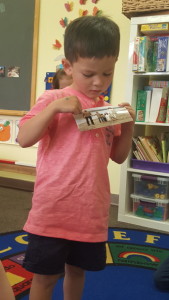 During this month they will learn vocabulary as:
As well,
 

we worked in different activities building up their fine motor skills. They did activities like coloring llamas, llama puppets, etc. In addition, we sang songs, exercised and played.
The kiddos are working on either identifying their name or practicing working with their name. They used handwriting paper and recognized the letter in their names and playdough-names.
This week we worked with number 1. We had a fun time playing and using different items to recognize it. We used different activities to trace number 1 in the board, and coloring the number.
This month we are working with circle shape/ el círculo. I talked about it with the kiddos passing around the shape, so the children could examine this shape up close. We compared different sizes of the circle shape and looked for it around the classroom.
Each week I like to share a little piece of the many activities or topics we do within our class time.  The most important thing we will do in preschool is instill a love of learning.  Learning with our peers, listening to home and sharing ourselves. Learning is preschool is very social as well as academic.
Looking forward to a great week 2!
Have a good weekend

Macky