Language Arts 
We were excited to start our new unit: En busca de amigos ( Finding Friends). We started with Pupurupú. This is a story about a correcaminos (runrunner) and a coyote (coyote) who have a daily race as one tries to eat the other. One day the coyote falls and breaks a paw. The correcaminos takes care of him and then another day the favor is returned. Why? They've discovered they aren't enemigos but amigos. Other things we focused on this week were:
oral blending
the comprehension strategies of asking questions and comparing & contrasting
introduction to synonyms and antonyms (amigo/enemigo, grande/pequeño, alto/bajo, rápido/despacio)
using our writing to make lists (of the things we like to do on Halloween)
words that describe color (awareness of adjectives that change with the noun they modify)
Writing about our halloween costumes. (I'm not a vampire. I'm a ……)
Our specific letter studies this week were: ch, G, C.  Please note, the G and C have the same rules in Spanish and English.  They make their hard sound except when followed by E or I, then they make their soft sound. (The G soft sound is /h/ in Spanish.)
Our sight word studies this week included: tiene (he/she has), por (through or by), con (with).
Math
We worked in our interactive math journals this week comparing numbers. This included number sentences for the students to read. We also worked on addition sentences with 0 up to 5.
Students were introduced to our bolsas de 5 / #5 baggies.  These baggies each have 5 items in them with a line drawn down the middle.  No matter how many items are on each side the total remains 5.  (0+5=5, 1+4=5, 2+3=5, etc.).
Social Studies & Science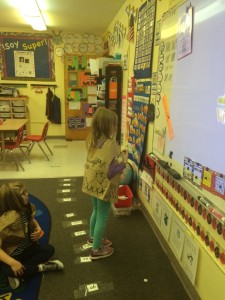 This week we learned about the Wampanoag tribe.  We learned about their location, food, shelter, and topography of their land.  We learned about a boy named Tapenum in the story "Tapenum's Day".  He is working toward his initiation in becoming a hunter for his tribe.  Ask your student things he did to prepare for this honor.  We filled out a visual chart comparing the food, shelter, and location of the Sioux tribe, the Wampanoag tribe and ourselves.
We also learned about Native Americans today.  We know that they still live in the U.S. today and while they have maintained some of their customs and culture, many live just like you and me (living in houses, shopping at grocery stores, driving cars etc.)
We are learning about "college talk".  We are learning how to answer questions in complete sentences.  i.e.  What is your favorite color?  My favorite color is _________.  You can work on this at home.  i.e. What would you like for dinner?  I would like _________ for dinner.  We will soon start working on supporting our answers with because!
Thank you for your help in making our Halloween activity afternoon a success!  The kiddos enjoyed doing the spooky science experiments, hearing Ms. Marcie's Halloween story and learning about how to be safe on Halloween night!  Have a wonderful, safe, Halloween!  I know I will be hearing all about it on Monday!
Music
This week we learned a Chilean folk song about a turkey, "Pavo, Pavo," and introduced the new percussion instruments. We used them to accompany the new song and to echo short rhythmic passages on several different instruments. We also had a discussion about the importance of taking care not to hurt anybody's ears when we use these instruments.
Art
The Kindergarteners learned about sculpture today, and they made a paper sculpture of a black cat. We compared a flat picture of a black cat that was posted on the classroom door to the 3 dimensional paper cat that the students made. They did a great job cutting, gluing, and following directions! It is great having Alora's mom Stacy helping out each week ­ the students get more experience with all the different steps in various art projects.