Language Arts 
This week we read La sombra de Osito. This is a story about a how a bear becomes annoyed at his shadow for following him around all the time. He tries many ways to get rid of his shadow before finally getting his shadow to "cooperate." We learned how to hojear / browse through the story before reading it. Good readers know that a story is much more interesting to read if they take the time to wonder / imaginar about it before they begin to read it. We also set a purpose for reading / establecer objetivos. The little bear in the story had a problem to solve. We listened carefully to see how he tried to solve the problem.
In writing this week we worked on identifying letters, words, and sentences.  We looked for sentences in our story and identified the capital letter at the beginning of every sentence as well as the ending punctuation. We talked about the different types of sentences and the punctuation used.
We have a class Sombras book making the rounds. Each students will have the opportunity to bring this book home. Please return it promptly the very next day. (It's going to take 3 weeks to make the rounds!)
Math
Number identification within 10's frames was a fun focus of the week. We learned about the hungry crocodile who only likes to eat the biggest number. The students provided complete sentences for comparing the number of objects in given groups. They practiced these as a whole group and in pairs.
"6 es mayor que 4."

Social Studies & Science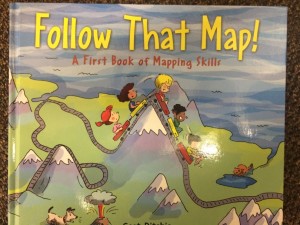 This week we continued learning about maps and working on our map book.  We read the book "Follow That Map" by Scot Ritchie.  This book reinforced our learning of map symbols, legends, the compass rose, following directions and introduced us to different types of maps like weather maps and topographical maps.  See if your student can describe several different types of maps to you.  We also enjoyed mapping where each student lives on our Camas/Vancouver/Washougal maps.  It is fun for the students to see where they live in relation to each other and to the school.
On Thursday we learned a little about Christopher Columbus and the purpose of his voyage to America.  We learned about the three ships that sailed: Nina, Pinta and Santa Maria.  We did a paper craft of Columbus' ship, the Santa Maria, along with a writing prompt "If I were an explorer I would….".  We will learn much more about Columbus in later in the year.
 Music
We listened again to parts of the Carnival of the Animals, playing special attention to which instruments were used to represent different critters. Class members readily picked out passages on cello, piano, violin, clarinet and drums.
Art
The kindergarteners painted pictures of pumpkins in art this week. We looked at a real pumpkin and a basketball to compare their colors, shape and texture. After drawing a pumpkin shape with crayon, the students painted it yellow, and then added red paint directly on the paper to turn it orange. They also painted yellow grass, and added blue to turn the grass green. The kindergarteners did a great job mixing colors!