Language Arts & Math
This week we began our new Language Arts unit: Sombras (Shadows). The purpose of this unit is to engage your children in reading about, thinking about, and actively investigating shadows on their own. By the end of this unit, your children should have sharpened their questions about shadows and deepened their understanding of them. More importantly, they should have come to a preliminary sense of what scientific inquiry involves and the close connections that exist among reading, discussion, writing, and the inquiry process.
This week we focused on the reading comprehension strategies of: asking questions, monitoring & clarifying, making predictions, and cause and effect. We practiced using context clues to help us understand new vocabulary and worked on identifying the different types of sentences. We read two great books to practice all these strategies: Pablo Pablo en busca del sol and Las sombras. For grammar this week we worked with several new letters and site words. Students are still needing to slow down and carefully form those letters from top to bottom!
Letters: T, F, D, LL (this letter looks like the L but makes a /y/ sound)
Sight Words: un (a), una (a), este (this), esta (this)
We also worked on identifying the different types of sentences we see in our books. We are working on identifying and providing the correct punctuation. Students have now been introduced to the upside down question mark and explanation point. In Spanish you always know, right from the beginning of a question or exclamatory sentence, what expression to use.
This week in math we added several things to our daily calendar routine including: tens frames, a new pattern: calabaza, hoja, calabaza, hoja (pumpkin, leaf, pumpkin, leaf), and our pumpkin tally chart for the number of days in school. We also worked on identifying the numbers that come before and after a given number on the number line. Great job!
We began working on our subitizing skills. It's an important skill to be able to look at a group of objects, know how many there are (without always counting), and be able to add a few more by counting on, rather than starting back at 0.
We also welcomed fall with a great fall poem and fall math activity showing which number comes next. Being able to state the number that comes next is a great counting-on skill.  They did a wonderful job!
Social Studies & Science
This week we wrapped up our plant unit.  The kids learned how to take the unit assessments which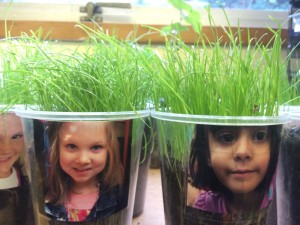 involved a true or false section, color according to the answer, and circle the correct picture.  We went over the answers together and corrected and discussed any mistakes.  Everyone did very well on their first assessment!  The students have been recording the plants growing in different conditions in their science journals.  We have also enjoyed reviewing parts of plants by watching our grass heads grow and our individually planted bean seeds grow.
We are now focusing on maps and our place in the world.  We continued working on our books that help teach the students their address, city, state, country, continent and planet.  We did some more mapping activities like locating each of our addresses on a map, mapping the playground while learning about a map key and how to use it, and looking at different maps.  Please continue working with your child on learning their address.
Character Education
We wrapped up our theme of Kindness this week.  We discussed how we began the year with this character trait since it is one of the most important ones to carry us through the rest of the year.  The students did a fabulous job illustrating acts of kindness on their Kindness Counts posters.  Hopefully everyone was able to check out their artwork Wednesday afternoon!
Music
This week we took our first listen to classical music: Saint-Saëns' "Carnival of the Animals," alternately guessing what animals we heard and moving like the animals in the music. Picture: being kangaroos.
Art
The kindergarteners did a wonderful job with their scarecrow collages! They learned how to cut basic shapes (circle, rectangle, half­circle) to make the head, hat, shirt and pants of their scarecrows. Then they added raffia for hair, hands and feet. All of this was glued to their landscapes from last week. These colorful, creative scarecrows are on the bulletin board at school.