Spanish Literacy
What a wonderful way to finalize our unit En equipo! Our kindergarteners did such a fantastic job performing the play La gallinita roja. We have very talented children!
This week we dedicated our literacy time to continue to explore Elementos Literarios, in detail. We focused on every area, describing it, analyzing it, giving examples of and acting ! You all  will be  able to see, very soon, the product of all of this hard work. After our literacy studies student will be able to:
Identify the setting of a story
Name the characters of a story
Identify the problem and the solution of a story
Retell the events of a story (sequencing) using transitions words
Identify and explain character's traits
Explain a cause and effect situation
Spanish Math
Mathematical situations can be represented in many ways. Addition and subtraction can be shown with objects, pictures, models, numbers, and words. For the last two weeks we have spent time exploring the beginning skills in algebra using symbols to represent mathematical situations. We discussed the concepts of addition, subtraction  and equality. Story problems are a common context for applying these concepts. Kindergartners should be able to understand simple joining, take away and comparison problems. As the story problems are presented, children use manipulatives and models to make sense of the situations, paying close attention to Spanish language structure and vocabulary.
Extra Extra!!! The kindergarten class will be having  Feria de las pulgas (flea market) next Thursday, June 15th at 2: 45. Students will be selling toys at very reasonable prices. They can bring change to buy some too, if they are interested! This will be a wonderful opportunity to give our last math unit, Money, a very authentic purpose!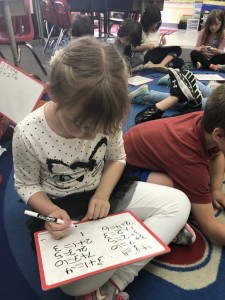 English Social Studies
This week we are having fun reading and discussing different versions of fairy tales to accompany our previous unit on kings and queens.  The class has been talking about different plots, settings, and other story structures that are similar and/or different in each story.
Our objectives were to :
•  describe the characters, settings, and plots in the stories we have read.
•  discuss the lessons or morals of a particular fairy tale
•  listen to and understand a variety of text, including fictional stories, fairy tales, historical narratives, informational text, nursery rhymes, and poems.
•  recall and sequence events from the stories read
•  with assistance, use a variety of graphic organizers to compare and contrast stories
Our new sorts this week were the digraphs "wh" and "th".  Our poem for the week was "What I Can Do" and the song "This Land is Your Land".  For handwriting we practiced writing our color words.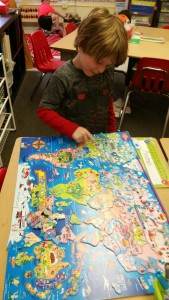 English Science
This week we finished our science domain on Taking Care of the Earth.  Our focus was on real life solutions that we can do ourselves to help take care of the earth.  We read the poem "What I Can Do".
Our objectives were to :
•  identify possible solutions for the problems of garbage, litter, pollution, and conserving natural resources discussed throughout this domain
•  understand why people have a special responsibility to take care of the earth
•  categorize and organize facts and information from this unit