Language Arts 
What a busy week we had! We have been enjoying singing our ABC's, playing fun games like alfabola, and our Letra, Letra song. Each day we sing this song, review the previously learned letter names/sounds and then find out what the new letter of the day is.  We are focusing on correct letter sounds and correct letter formation. (Breaking habits of incorrect letter formation is a focus now, as we will be writing a lot this year.)
We worked more with rhyming words this week. Your children did a fabulous job singing and acting out Que llueva. 
Que llueva, que llueva
el burro está en la cueva
los pajaritos saltan
las nubes se levantan
que si, que no, que caiga un chaparron
que si, que no ,que caiga un chaparron
I sang similar versions and everyone did a fantastic job filling in rhyming words! Rhyming is fun but also leads to connections between words and their spelling.
This week we also read and sang El burrito enfermo. This is a great song for the students to act out while introducing body and clothing vocabulary.
Another new song from this week:
Math
We introduced math boxes this week. This is a way for students to work on their number recognition,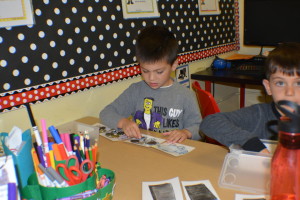 one-to-one correspondence, and counting skills. We used our math boxes and fives frames to create groups of objects. We worked on identifying numbers, forming groups, filling out a five and tens frame correctly, matching up groups, and writing numbers correctly (top down).
In our daily morning work students write their name, the day of the week, and the number for the day of school. They then have quite a few options for other ways to work with this number of the day. (Allowing flexibility for different arrival times or working speed.) Students use the number of the day (we keep track of the number of days we have been in school) and then fill out 10's-frames. Students pull counters out of their pouch to represent the number in concrete form.
Social Studies & Science
This week we learned that we eat all parts of plants, for example: root=carrot, stem+celery, leaf=spinach, seed=sunflower seed.  We got a chance to sample each part of a plant.  Ask your kiddo if they liked all the parts.  We also observed our experiments.  We are trying to grow seeds in different conditions.  Some are receiving everything a plant needs: air, water, food, and light.  Some are receiving just a few of the necessities.  We are watching to see which seeds will grow.  Ask your kiddo what is happening to each of the seeds.  We learned about honeybees and how they collect nectar and pollen and how they make and use honey.  We learned the important role that bees play in plant pollination.
We learned that seeds are the beginning of new plants and each student planted their very own seed that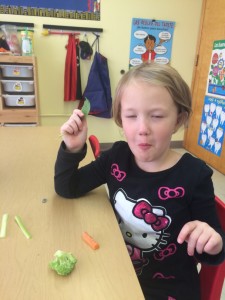 we will watch grow over the next several weeks.  We know that some plants produce fruit to hold seeds.  See if your child can tell you several fruits that hold seeds.  Students compared and contrasted fruits and seeds of different plants.
We are also learning our place in the world.  We are starting with our address and then getting bigger with our town, county, state, country, continent, and planet.  Students can be practicing learning their address at home if they do not already know it.  We are putting together a book of "Our Place in the World".
This Monday students will each receive a bag with several books for them to read throughout the week. Students will be able to read some and will need some read to them.  These books are to encourage reading at home.  Students will keep them all week and bring them back on Monday to exchange for a new bag.
I know it seems a lot to keep track of.  Here is the breakdown of what to bring and when:
Monday return:
Green "I Can Read" Folder
English book bag
Daily return (except Wednesdays):
Planner
Folder
Art
This week in Art the kindergarteners looked at some examples of abstract art, and they learned that some artists use shape and color to make pictures that do not look like something we recognize. We also discussed different kinds of line, and the students used a variety of lines (straight, curvy, zigzag, spiral) to create colorful paper sculptures. It was fun watching each student design their own abstract art!