Language Arts 
We talked about the different ways we show patriotism in our own families.  Students illustrated this.  Illustrations are an important part of story telling. Illustrations are not just about working on our fine motor skills but also about the thought process involved in adding details.
Before reading our 4th of July story we previewed some important vocabulary words by acting them out.
Students wrote about how their family celebrates the 4th of July. Although many of celebrate in the same ways it was also fun to see how others celebrate.
Math
We worked on comparing t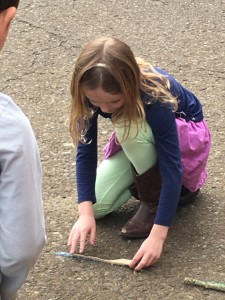 he length and height of objects by using both a set of 10 linking cubes and a line of comparison. Students found their objects and then shared their comparison sentences:
La flor es más alto que el trebol.
El trebol es más bajo que la flor.
El palo es iqual que la linea. 
La roca es más corto que la linea.
La planta es más largo que la linea.
Social Studies & Science
Each day this week we read a Dr. Seuss book and did a special activity in honor of Dr. Seuss' birthday and Read Across America.  We read One Fish, Two Fish, Red Fish, Blue Fish, There's a Wocket in My Pocket, ABC book and The Sleep Book.  The students created their own Green Eggs and Ham class book and There's a Wocket in My Pocket.  These books will take turns going home overnight with each student and are to be returned the following school day.  Enjoy!
This week we learned a bit more about George Washington.  Ask your kiddo to tell you about his spectacles and how that helped calm his soldiers from trying to take over the country.  We learned about Thomas Jefferson and his gift of writing, Abraham Lincoln and his efforts to end slavery, and Teddy Roosevelt.  We learned about Teddy's efforts in setting aside land to be preserved in it's natural state creating National Parks for us all to enjoy.
Art
In Kindergarten art we talked about the month of March, the seasons of winter and spring, and the saying "March comes in like a lion." We looked at Ed Emberley's book about drawing animals, and the students made a step­by­step crayon drawing of a lion's head, using basic shapes. The students did a great job creating these fun lions!
Music
This week we learned several new songs from the core curriculum, including The Teddy Bears' Picnic, Kookaburra, You are my Sunshine and I Know an Old Lady.