Language Arts 
We began our new language arts unit: Rojo, blanco, y azul. This unit started with a story about the history of our flag. This unit coordinates perfectly with Ms. Jill's social studies unit!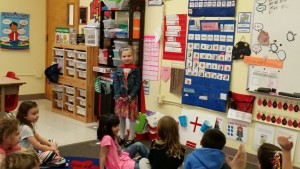 Students did a fantastic job in their dictation this week. We worked on initial phoneme replacement. We also took our Que llueva song and changed the words to other rhyming words. This was very fun and a great activity.
Natalie did a great job leading as our Super estudiante. I somehow got off on the schedule. Next week our super student will be Andres.
The students do such a great job leading the class for calendar time. This is a great experience for them and lays the groundwork for public speaking.
Math
This week we worked on identifying coins. Students were given money amounts and then identified the correct coins and/or coin stamps. We talked about all the different combinations we could use to make an amount: 13 cents could be: 13 pennies, a dime and 3 pennies, 2 nickels and 3 pennies, 1 nickel and 8 pennies.  There are lots of possibilities!
We started working with subtraction this week. We used the number line to help us count backward. We used pennies to take amounts away from the group when making a purchase. The students used tens frames and 2-colored circles to show the oral subtraction stories I told them. They also wrote and said the equations to accompany these stories.
Social Studies & Science
This week we started a new unit on Presidents and American Symbols.  Having Presidents' Day earlier this month was a great introduction into this unit as we learned about George Washington and Abraham Lincoln.  In this unit we will learn about these presidents in more depth along with Teddy Roosevelt and Thomas Jefferson.  This week we learned about Washington D.C. and the home of the president.  We learned about our current president, some of the monuments of past presidents, a bit about our American flag, and some differences between a president and a king.  See if your kiddo can tell you some of the information they learned.  We also created a big hand print U.S. flag that will be on display in the hallway!
Music
This week we worked on identifying the quarter note in music. The quarter note has one beat. We did several different activities to reinforce recognition of this note. Many students were also ready to identify the half note and the whole note.