Tuesday, February 16th is the 100th day of school!  Don't forget to send your child with their 100th day super cape project.
Language Arts & Math
This week we read a great book: Tillie y la pared. In this book there is a wall that no one ever questions or notices, except Tillie. Tillie wants to know what's on the other side of the wall. All the other mice help her to try to climb the wall. When they aren't able to climb the wall they try to walk around it. They aren't able to do so. Tillie doesn't give up. While imagining what could possibly be on the other side she sees a worm and has the idea to dig underneath. At this point in the story we paused and the students did a journal entry where they wrote and illustrated what they thought might be on the other side of that wall. This story was a very fun story for the students in our Perseverance theme.
We did a LOT of math as part of our Valentine celebration. We counted objects from heart boxes and then showed the number in 4 ways. We chose tallies, cubes, tens frames, addition number sentences, subtraction number sentences, or dice.
We used candy hearts to measure lines of different lengths. Candy hearts were also used to graph. The students did a great job with both of these activities.
Social Studies & Science
Whew!  What a fun-filled week packed full of learning!
This week we had a fun time at the "Bodyology" field trip!  Sure was fun seeing some of our very own students on stage, including Alora and Mr. Jesse!
Monday was Chinese New Year.  We learned that this is the year of the monkey, we located China on the map, and did some fun activities related to the holiday.
This week we also continued our Senses unit.  We learned about nearsightedness and farsightedness which was interesting since we have several students in our class wearing glasses this year.
This week in preparation for our upcoming Presidents' Day (Monday), we learned about the day itself and some interesting facts about George Washington and Abraham Lincoln.  We also did some fun craftivities, writing prompts, and read some books around the holiday.
And of course we celebrated Valentine's on Friday!  We did so by doing some fun science experiments and activities.  See if your child can name some of these and walk you through the steps.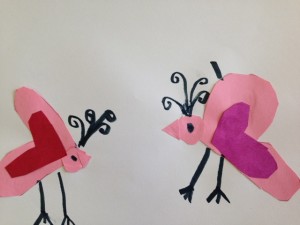 Art
The kindergarteners practiced drawing and cutting out hearts this week in art. They made large and small hearts in different colors, and then combined these with circles and triangles to create some very cute Valentine birds. Happy Valentines Day!