Language Arts 
In language arts we had a lot of fun with our playful mono/monkey. He likes to play with words by stealing their initial sound. Mono also worked a lot with rhyming this week.  Mono is an especially silly rhymer! It was fun to make rhymes out of the student names.
We also worked on categorizing nombres / nouns, lugares/ places, objetos / things. These kindergarteners are fabulous!!
Our story focus this week was Boomer va a la escuela/ Boomer Goes to School. This was a fun story and provided students the opportunity to share about their own pets.
We are working hard to remember our correct letter formations: top-down. This week we worked with the letter A (the dentist's favorite letter, say "Ahh"), the letter E (as in elephant or egg), and the letter I (as in ēēk or pizza) As we work our way through the alphabet we are asking students to use the correct upper and lower case letters in their names. You might notice this on their papers. We are also working on making sure our letters rest "in the grass / en el pasto" and don't float like a balloon / globo.  No floating letters please. ☺
Math
We added tallies to our morning work.  Students learned to make 4 lines and cross with number 5.  We had fun practicing this with sticks.
We worked on identifying numbers in dice. A fun math activity was to roll the dice and trace over the number.  This involved a lot of rolling in order to get all the numbers traced! This was also great practice for correct number formation.
Social Studies & Science
This week we started our unit on plants and plant growth. We started out by learning the basic needs of plants; air, water, food, and light. See if your kiddo can tell you these four needs. We also learned about photosynthesis being the process by which plants use light to make their own food. The kids love saying this big long word!  We learned the parts of a plant: seed, flower, stem, leaves, and roots. The kids are doing great during the lessons and with their follow up activities. They are growing their own plant from seed we are also doing a science experiment with different variations of plant needs being met.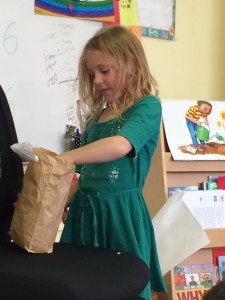 In addition to learning about plants, we are learning the seven continents song and learning about the compass rose for social studies.
The "me" bags were great!  The kids did a great job sharing a little about themselves. The kids were a kind and courteous audience to their classmates. I was very proud of them all!
The "I Can Read Folders" came home Friday and are to enjoy and practice over the weekend and then returned on Monday so we can add more goodies throughout the week.
 I wanted to let you know about a fun, free family outing you might be interested in seeing.  Every night about an hour before dusk, thousands of swifts (birds) swirl into the chimney of Chapman Elementary School in Portland.  You can find more info at audubonportland.org/local-birding/swiftwatch.  While we are not studying animals right at the moment, we will be in the near future so this would be a great extension to our learning.  Of course this is optional, just thought I'd put the word out. 
Art
We looked at a real sunflower and some photos of sunflowers,and discussed their shapes, colors, and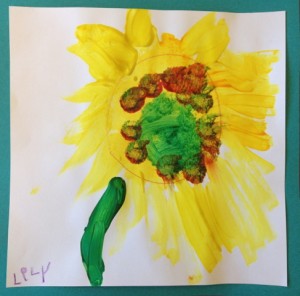 textures. We also looked at a picture of one of Van Gogh's sunflower paintings. The students learned how to create a bumpy, rough texture for the center of their flower by using a stiff brush and "stamping" on the paint. Then they used a different brush to paint smooth petals. The kindergarteners did a great job, and their beautiful paintings are on the bulletin board by the kindergarten classroom.
PE & Health
Kindergartners have Health class with Ms. LeAnn on Mondays and PE with Mr. Jesse on Wednesdays.  Many of our health lessons are active so we are asking your child to wear proper clothing (pants or shorts) and athletic shoes (sneakers) on Mondays and Wednesdays. Did your child tell you about our school challenge?  We are 'walking' to Buenos Aires!