Language Arts 
We had a great week in language arts.  The students are really flying through their little readers!  We do want to make sure they are also reading for understanding (and reading fluently, rather than memorizing their books).
A few of the stories we read this week were Tormenta de Nieve and Feriado. The students especially enjoyed listening for all the rhyming words in  Feriado.
I have been very impressed with how the students are doing during our word of the day. I always ask for volunteers to use the word in a sentence.  Typically every student provides at least one sentence. On Friday I elected to record a few of their sentences on th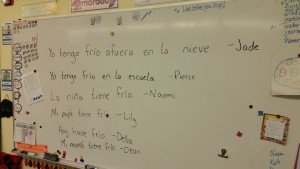 e board so they could see the sentence as well as hear it.
ahora –  now
busca – he/she looks for
frío – cold
The students brainstormed things they like to do in winter and then wrote and illustrated this in their writing journals. I'm pleased to see them beginning sentences with a capital letter. We will continue to work on the concept of punctuation.
Each student has been working on adding two letters a day to their ABC books. Each day we brainstorm all the words we know that start with the two letters of the day. Sometimes the lists are quite long! Their vocabulary knowledge is getting huge! They then pick one word for each letter, write the word, and illustrate it. These will be a great resource for them when they are finished.
Math
This week we focused on composing and decomposing groups of 5 and groups of 10. The students all did a great job using cubes as a visual representation, as well as using number bonds/ números conectados and equations.
CCSS.MATH.CONTENT.K.OA.A.3   Decompose numbers less than or equal to 10 into pairs in more than one way, e.g., by using objects or drawings, and record each decomposition by a drawing or equation (e.g., 5=2+3 and 5=4+1)
These activities are part of our operations & algebraic thinking and help us to better understand addition and subtraction.
Social Studies & Science
This week we wrapped up our "Seasons and Weather" unit with some activities.  We made an anemometer which is a tool to measure the wind.  We did an experiment making our own water cycle.  We drew a diagram of the water cycle.  See if your student can explain the cycle to you.
We started our next unit "The Five Senses".  We started with the sense of sight identifying the parts of the eye and their functions.  We learned about how the eye works.   We drew a diagram of the different parts of the eye.  We also learned about the sense of hearing, identifying the parts of the ear and their functions.  We played a fun listening game identifying the sounds that we heard.  Next week we will continue with the other three senses.
Art
In Kindergarten art, we talked about the seasons, and we looked at Ezra Jack Keats' book "The Snowy Day." After looking at the shapes and colors of the buildings in Keats' book, the students used construction paper to make a variety of houses, with doors, windows, and chimneys. To create a "snowy day" in their pictures, the students learned how to dip sponges in white paint and dab it onto the rooftops, road, and sky. These turned out beautiful, and I saved them to put on a bulletin board at school.
Music
Today our class welcomed a pre-school class. We shared several of our favorite activity songs, including Un Elefante and La Tía Mónica and learned Cabeza, Hombros, Rodillas y Pies (Head and Shoulders, Knees and Toes. The kindergarteners set a great example for the younger class.