Language Arts 
We continued our wind unit with ¿Qué pasa cuando sopla el viento? This nonfiction selection introduces students to the many aspects of wind and the ways people use wind are affected by it. It describes days with no wind, with gentle winds, and with destructive winds. A few objects from this week are:
To participate actively during reading, asking appropriate questions and listening attentively.
To distinguish between fiction and nonfiction.
To identify headings in text.
To use reading comprehension strategies of Asking questions, Monitoring and Clarifying, and Predicting.
To group vocabulary words based on concepts.
To describe things using appropriate position words.
High-Frequency Words
bien – well (I am well. I read well.)
dónde – where
estoy  – I am
Math
We had fun with our addition sentences up to 10. Students are becoming quite adept at solving their addition problems using the counting on strategy, using the number line, using the dots on the dice, etc.
Social Studies & Science
This week we learned more about clouds. We learned about the reason for the seasons. We did a demonstration with a flashlight and a globe showing how at certain times of the year we receive more direct sunlight making it hotter where we live, and other times we receive indirect sunlight making it colder where we live. A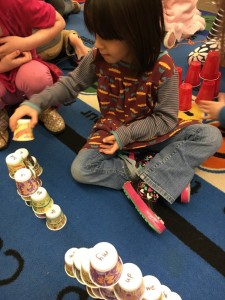 ll because of the earth's tilt in it's axis. We also did this demonstration with the students being the sun and the earth. We  learned about the water cycle. We made a mini water cycle in our room. See if your child can tell you and explain the four steps in the water cycle: evaporation, condensation, precipitation and collection. 
This week we introduced new ways to study our "Wordapillar" words and eventually our spelling words. The kids had a lot of fun doing these. See what your child's favorite activity is. 
We also learned about Martin Luther King Jr. and how he helped achieve equality and justice for all Americans of all color. 
Art
In kindergarten art we looked at a globe and "traveled" back to the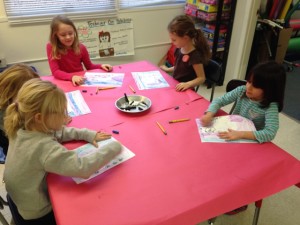 Arctic region where polar bears live. We read a short book about polar bears, looked at some photos, and also looked at Eric Carle's "Polar Bear" art. The students learned how to draw a polar bear with pencil and oil pastels. To make the white polar bear show up on white paper, the kindergarteners learned how to use the side of the oil pastel to create a background. We enjoyed looking at all the wonderful polar bears when everyone finished.
Music
Songs featuring sleepy critters, Teddy Bear's Picnic and Mi Palomar, were today's focus. We also learned You Are My Sunshine, and talked about the fact that the daughter of the song's composer is a good friend of Sr. Kit who is also a composer of simple but beautiful music.