Language Arts 
We jumped into the New Year with a few fiction pieces to highlight our wind / el viento unit. We talked about how the students see, hear, smell, and feel the wind and how the very windy weather has changed things in our neighborhoods. We read Gilbert y el viento. In this story, young Gilberto plays, and sometimes struggles, with "Wind." We followed Gilberto, his dog, and wind through different seasona and in all sorts of weather.
This week we also had a great time with antonyms, concept words, and initial and final sounds.
Writing
We wrote about our hopes for the New Year. In our writing we are focusing on letter size, word spacing, spelling of our high frequency words, sentence formation, and punctuation.
High Frequency Words
We added three words to our High-Frequency word wall and path this week. These books are prominent in the little reader: El avión.
tú – you
puede – he/she can
puedo – I can
Math
We are working on forming number sentences with counting on as well as identifying the number that comes before and after a given number. The students enjoyed using dice to add teeth to boy and girl pictures. They needed to write and say the equations.
Social Studies & Science
This week we continued our study of seasons and weather. We had fun doing different experiments like making rain, making a rainbow and our failed attempt to make a cloud. See if your child can describe these demonstrations to you. 
We also learned about three different types of clouds: cumulus, cirrus, and stratus. We painted the three types of clouds.  You can see them on display in the hall. See if your kiddo can tell you about the different clouds. 
We read some fun stories; The Little Cloud by Eric Carle, Cloudy with a Chance of Meatballs by  Judi Barrett, It Looked like Spilt Milk by Charles Shaw, and The Cloud Book by Tomie dePaola.  See if  your child can tell you which one was their favorite and why. We did some fun activities that went along with these books.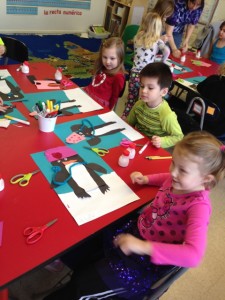 We will continue to learn more about seasons and weather next week and about the seven continents. 
Art
In Kindergarten art we switched from North Pole activities (reindeer paintings in Dec.) to South Pole Penguins. The students learned about penguins that live in Antarctica, and they used construction paper to draw and cut out their own penguin shapes. They used an upside down U for the body shapes, and a D shape for the wings/flippers. We had just enough time to add a hat and scarf to these very cute penguins!