Happy Holidays!
Language Arts 
This week flew by! We read a great book about the lady who swallowed all the parts for Santa's sleigh. We then made our own version in a class book of what la senora might swallow. We will send this book around. Please be sure to read through it and return it the next day so everyone will get to take it home in a timely manner.
We worked on compound words / palabras compuestas this week. This was a difficult concept in Spanish and in English for the kiddos. We will certainly have many more lessons and spotlights on this topic but it would be great if you helped reinforce this concept as you find yourself reading or even saying compound words.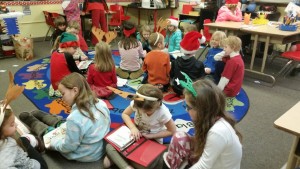 We had the wonderful opportunity to listen to the 1st graders perform their Spanish 12 days of Christmas.
We also had the 2nd/3rd grade class join us so that each kindergartner had a reading buddy. These buddies also helped to wrap your parent gifts!
Math
This week in math we were able to incorporate some holiday and winter fun into our activities. We did great projects around:
Forming groups of 10
Counting on to 10
Writing number words
Holiday Homework
Holidays are great for involving the entire family in games, reading, and activities that could actually include quite a few skills we are working on in class. Here are a few ideas:
Counting during baking (measuring too!)
Games involving dice or number cards (instant number recognition, two-dice equals counting on practice)
READING to your child and having them read to you (

So important!!

).

Writing thank you cards using their best handwriting.
Coloring, using multiple colors, with efforts to stay within the lines. (Quite a few kiddos could use this practice.) Color as a family and see how it changes your child's effort.
Social Studies & Science
We had tons of fun learning about the seven continents and the winter holidays that are celebrated throughout the world. Enjoy the pictures of the kids playing dreidel, making a diya from the Indian holiday Diwali, a prayer stick from the Hopi Native American tradition, a dragon from the Chinese New year celebration and  a Kwanzaa bracelet. Happy holidays!!
Art
We had a very busy "Ornament Workshop" in kindergarten art this week. The children used popsicle sticks to make a snowman, a reindeer, and a Christmas tree. They all did a great job creating these cute ornaments! Have a wonderful holiday and I'll see everyone in January.
Music
We worked on Rodolfo el Reno, Feliz Navidad, and En el portal de Belén. We were able to have a Facebook video conversation with Yuliana (11), Génesis (5) and Mati (4) Guerra in Ecuador, and were shown their tree and the ornaments they had made in school.