Language Arts 
We read a fantastic story, one of my favorites, Mediopollito. This story has been passed down through the generations and tells how the weather vane came to be. All the students did a fantastic job recalling the sequence of events from the story in an oral recounting as a whole group.  They were also asked to illustrate their own sequence, with a few students also taking this to the next step and copying appropriate sentences onto their sequence.
We also read a few winter and Christmas books.  It's fun for the kiddos to connect their prior knowledge of these topics with their new vocabulary.  They did a great job using this vocabulary in their daily conversations, class contributions, and sentences.
We worked on the sound/syllables wa, ya, za, and cha  this week. Students are able to provide large numbers of words for our word banks during each of these syllable studies.  We also practiced our dictation this week, using these syllables as well as those previously studied.
Our high-frequency words of the week were: casa – house, grande – big, hoy – today and  muy – very.
Math
We played quite a few games this week, providing students the opportunity to practice the following skills:
subitizing
tens frames
number formation (writing numbers correctly)
counting on
counting to 100 by 1's, 5's and 10's
Adding on to form groups of 10
Social Studies & Science
This week continued learning about the seasons and weather. We already learned about the characteristics of winter and spring last week and we learned about summer and fall this week. See if your kiddo can tell you some of the distinctive characteristics of each season. We learned about seasonal activities and sports. We also read a fable called The Grasshopper and the Ants. See if your child can tell you the beginning, middle and the end of this story along with the lesson learned.
In addition to learning about seasons and weather, we will be learning about the winter holidays around the world.  We started last Friday by learning about Hanukkah. And will continue this week and next learning about others. Please let me know if there are any holidays you would like to make sure we cover. Or if there is a winter holiday you know about and would like to come in and share either class, please let me know and we will make sure to arrange this!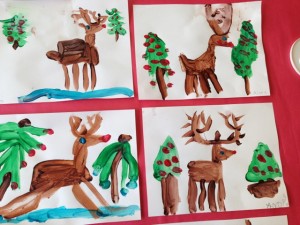 Art
The kindergartners learned how to paint a reindeer today, using basic shapes for the body, neck, and head, and using letters (U and Y) to make antlers. And of course a red nose! Then they added some evergreen trees in the background. I hope you enjoy these cute reindeer paintings during the holidays!
Music
We watched two YouTube versions of "The March of the Toy Soldiers" from Victor Herbert's Babes in Toyland and snippets of the Laurel and Hardy version of that musical. We also reviewed our Spanish language carols.