Language Arts 
This week our focus was on a poem: Amigos. We used this poem to practice our visualization strategy. We also used this poem to focus on specific syllables for more oral segmentation practice.
 Other things we focused on this week were:
oral blending and segmentation (clapping out our names)
sounds within words
comprehension strategy: visualization
vocabulary: sensory words
writing: things we are grateful for
Grammar: words that describe weather
Our specific syllable studies this week were: la-le-li-lo-lu, ma-me-mi-mo-mu, na-ne-ni-no-nu, pa-pe-pi-po-pu. 
Our sight word studies this week included:ocho, nueve, diez,  
Math
This week in math we worked on counting on. This is such an important skill so students will be able to start from any given number and count on.  We practice this skill using the number line, our number baggies from last week, our daily subitizing with dice, and in the activity pictured here. Students had turkey numbers and needed to put the correct number of links with each turkey number.  They selected random links,counted them, and then needed to count on, adding links, to make the correct number.  Sometimes they selected too many links and needed to count backwards to subtract links.  Counting backwards is something we have been working on all month during our daily calendar routine, as we counted down the days until Thanksgiving vacation.
subitizing defined: recognizing a number without using other mathematical processes. (Think: instant recognition.)
Social Studies & Science
This week we focused on the Pilgrims.  We are working on a timeline of events between the 1400's and the present.  This is a nice visual to help the students understand the time frames we are discussing.  We learned the reasons the Pilgrims left England and learned about their pilgrimage to the New World.  We learned the Mayflower was the name of the ship the Pilgrims took on their voyage and the conditions they endured en route.  We learned the importance of Plymouth Rock (see if your kiddo can explain the significance) and about the Pilgrims' bleak first year in North America.  Finally, we learned about the help the Pilgrims received from the Wampanoag Native American tribe and how they all came together for the First Thanksgiving.  We enjoyed eating some of the foods that may have been served at the First Thanksgiving.
We hope you enjoyed our little Thanksgiving program and we hope you have a fabulous fall break, a wonderful Thanksgiving and we look forward to seeing you on November 30th!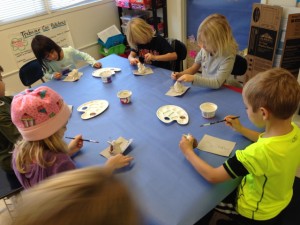 Art
You could have heard a pin drop when the Kindergarteners were painting their clay turkeys this week. They did a wonderful job using acrylic paint and being very careful with their sculptures. Their "Wild Turkeys" all turned out so cute! I hope you all have a wonderful Thanksgiving Holiday!