Language Arts 
We read a great humorous fiction piece this week: Ginger. This is a story about Ginger the cat, who has a very comfortable life with a little girl. Then, without warning, he finds that he must share his home with a new kitten. When the kitten pushes Ginger too far, he takes a drastic step. In the end they became friends.  This was a great story about new things, being unsure, and changing our minds once we give things a chance.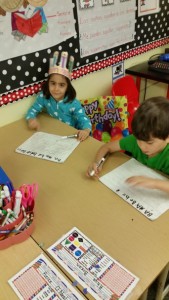 Specific areas of focus this week were:
Oral blending
print and book awareness using ellipses, high-frequency words, question marks, word length, and capital letters
dictation
synonyms and antonyms (seco-dry/ mojado-wet, encontró-found / perdió-lost)
making lists ( we made great lists in order to complete our scarecrow/ espantapajaros glyphs)
listening for details
Our high-frequency words of the week were: mayor/greater, que/than,that, uno/one, dos/two, and tres/three.  Our letter studies for the week were Q, R, Ba and Da.
Math
In our interactive math journals this week we worked on comparing groups of objects using greater than/less than symbols and sentences.  9 > 5  nueve es más que cinco y cinco es menos que nueve.
Social Studies & Science
This week we finished up our unit on Native Americans.  We ended with a lesson on a book titled "When the Shadbush Blooms".  See if your child can retell this story to you.  Retell is a great way to help with comprehension.  It is great practice for Kindergartners to tell you the beginning, middle, and end of a story.   We took a True or False assessment together as a class to learn and practice test-taking strategies.  The class did great!
We are beginning our unit on "Columbus and the Pilgrims"  Our first lesson was learning why the Europeans wanted to travel to India (to get gold and spices) and why they were looking for a new route (the land route was closed and traveling around the southern tip of Africa by ship was dangerous).  Our second lesson was on King Ferdinand and Queen Isabella and how and why they commissioned Columbus to search for a new route to India.
 Art
The kindergarteners made terrific little clay turkeys this week. We looked at some famous sculptures, including Native American totem poles, the Statue of Liberty, and Little Dancer by Degas. The students learned how to use air­dry clay to form the head, body, and feathers of a turkey. When the sculptures are dry, the kindergarteners will paint them and bring them home before Thanksgiving. The kinders also had time to make cute crayon drawings of turkeys, so we could compare drawings to sculpture.