Language Arts & Math
We had a wonderful first week of school! Thank you so much for sharing your children with us! This week we jumped right into our first Language Arts unit: La escuela. We had a lot fun reading about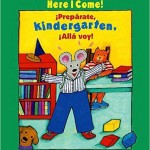 Henry and his first day of Kindergarten in ¡Preparáte, Kindergarten, Allá voy! This was a great way to discuss the different things we might be feeling as we embark on our new school year together. Throughout the week we sang the abecedario, sorted and listed personas/people and animales/animals, sequenced events from the story, and talked a lot about all the materiales escolares/school supplies. Through all these activities we worked on establishing routines (keeping our supply flower organized, pushing our chairs in, putting our names on our papers, raising our hands to share, etc.)
We will spend a LOT of time doing our daily calendar. During calendar they will learn the correct order of the days of the week and months, counting by 1's, 10's, 5's, and 2's, and patterns. We introduced how to keep track of the number of days in school with a 100's chart and straws.
Students jumped right in, using their Spanish and repeating, to earn class tallies. I was quite impressed with their willingness to use their Spanish!
Social Studies & Science
Wow!  We had a great first week of kindergarten!  This week we had fun getting to know one another by doing several "getting to know you" activities and learning school procedures.  We read stories and sang songs. Be sure to ask them about their magic playdough!
I assigned the kiddos their first "homework".  They are to find up to five items that will fit in the lunch sack they brought home that tells a little about them.  This could be a picture or a small toy, a crayon that represents their love of drawing, or a lego signifying they love to build legos etc.. The items will come back home but please be sure not to send anything fragile or super special just in case.  Not only will this help everyone get to know each other better, it will also help the kiddos get comfortable speaking in front of a group.
Your child also brought home their "I Can Read Folder".  We will add poems and songs throughout the year and your child can read them with/to you.  They will go home each Friday and are to come back on Monday (or the next school day) so we can fill them with more treasures!
I am looking forward to fabulous year! ~Ms. Jill
Character Education
Our focus during the month of September in Character Ed will be kindness.  We will be getting to know our new friends, reconnecting with familiar ones, and learning to demonstrate kindness together.  Our primary means of teaching will be through read-aloud books and stories, followed by fun activities to engage each student to pursue this trait. ~Ms. Lisa
Art
I enjoyed meeting the new kindergarteners in Art Class this week! We looked at a photo of the famous portrait "Mona Lisa" and learned how to follow her example of sitting quietly when the teacher is talking. For our art project, the students observed the shapes and colors of a variety of apples, and they made beautiful apple drawings, with some watercolor added for fun.   ~Ms. Kelly
Music
For our first music lesson together we learned "araña pequeñita," the Spanish version of "Itsy Bitsy Spider, complete with hand movements. We also introduced the concepts of louder and softer sounds, with the song John Jacob Jingleheimer Schmidt." ~Señor Kit