Language Arts 
This week the students completed their final writing project.  They brainstormed all the things they are proud to have accomplished this year and then wrote one of them for our craft project. I was so proud to hear all their answers. These can be viewed on our class bulletin board.
We also completed our final Spanish journal entry of the year.  It is so wonderful to look through these journals and see the HUGE progress they have made since September.
Next Monday each student will receive their final reading book of the year and then a few new books for summer reading. Please make sure they have their binders on Monday. An empty backpack would be greatly appreciated on Tuesday. (Except for their lunch and water bottles.)
Math
We had so much fun playing a LOT of different math games.  These games are perfect examples of all the skills they have acquired throughout the year.  They were a blast!!
Social Studies & Science
This week we did a lot of work with our sight words (wordapillar words).  We had fun doing sight word BINGO and also creating our very own wordapillar with every word we have learned so far.
We took a few more experiments through the scientific method.  This week we made paperclips "float" on water.  They weren't really floating though.  See if your student can explain how they stayed on top of the water.  We also did an experiment with "lava" in a cup.  See if your child can explain the steps to you.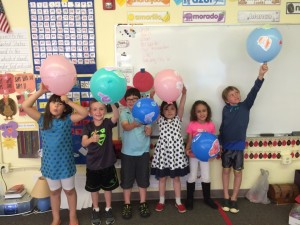 We continued to review content that we have learned throughout the year.  Earlier in the year we learned about our 5 senses.  This week we learned about our heart, lungs, stomach and digestion and healthy foods.
We also created a globe out of a balloon, labeled and placed the continents on it, and drew the North and South poles and the equator.
Like every week throughout the year, we did our spelling word sorts and wrote in our journals.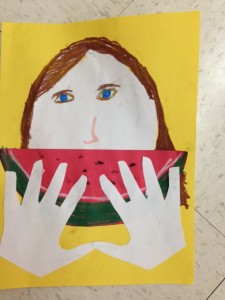 Art
To celebrate summer, the K-1 class made a picture of themselves eating watermelon. The students cut out an oval shape for the face, and added eyes and a nose with oil pastel. They also cut out a paper slice of watermelon, and added hands to hold the watermelon. They all did a great job drawing, cutting, and gluing! I have really enjoyed working with your kiddos this year and I  look forward to seeing everyone in September!