Language Arts 
We have been busy, busy, busy working on our beach writing. We went through the writing process, using the beach pictures as inspiration. This writing piece did not have a sentence starter so each student independently wrote every sentence of their paragraph. Editing proved tricky but we persevered and they did a great job! The fact that these wonderful kiddos are able to write short paragraphs, in two languages, makes me feel very proud.  They are wonderful!
Math
We worked on telling time to the hour and half hour. It is 2 o'clock would be: Son las dos en punto. It is 4:30 would be Son las cuatro y media. We learned all about the face of the clock, the hour hand and the minute hand.  We learned there are 60 minutes in an hour. We can use the numbers on the clock to count by fives in order to quickly determine the minutes.
We also reached the 170th day of school during this past week.  Each time we have reached a multiple of 10 we have practiced, on our daily straw count, forming a new decena / tens group. We have demonstrated this all year by trying to force the 10 straws into the ones place on our chart. They never want to go and end up flying all over the room. This has been a great way to introduce the concept of 'carrying' in addition on the place value chart. The students all look forward to this every 10 school days and accuse me of 'throwing las pajillas'.  I would never throw something.  Ten ones just won't work! I was able to capture this fun picture to share with you.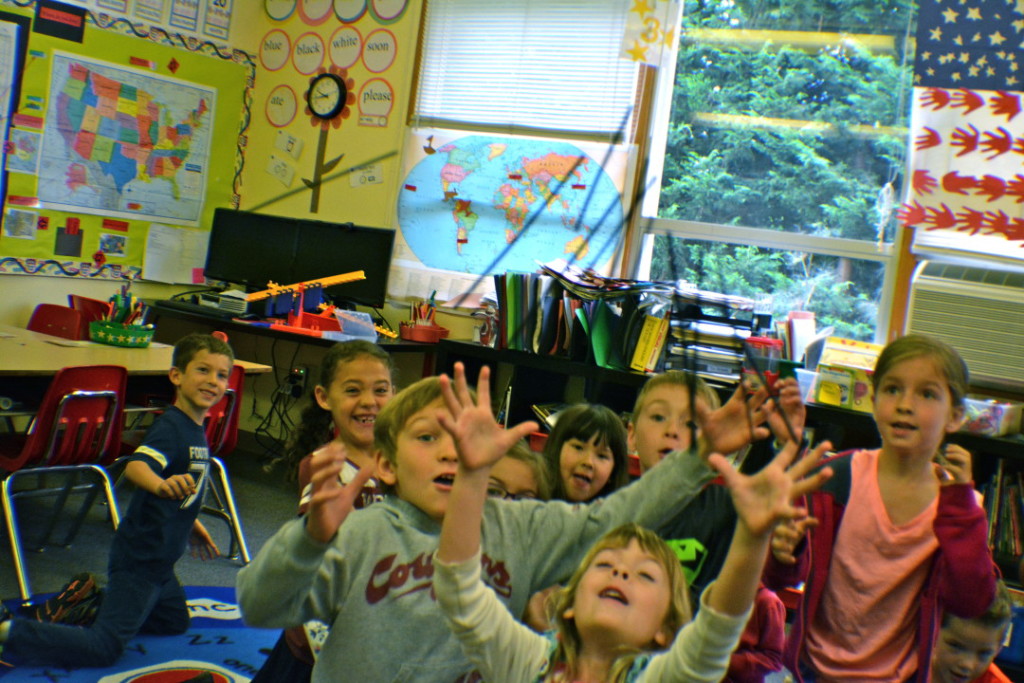 Social Studies & Science
This week we reviewed our place in the world. Quiz your kiddo to see if they can tell you the
planet, continent, country, state, county, town or city, and address in which they live. We learned all about scientists. We learned that scientists classify objects. We had fun collecting leaves from outside and finding all sorts of ways to classify them: by shape, color, size, feel, smell, etc. We learned about the scientific method and realized we are ALL scientists. We took a couple of simple experiments through the entire scientific method: observation, question, hypothesis, test, draw conclusions and report our results.
Art
The K-1 class finished their crayon and watercolor seashell pictures today. They learned that the wax in the crayons "resists" or pushes away the watercolor paint, and this creates interesting textures. This project was a good review of line, shape, and color for the class, and they did a great job!