Language Arts & Math
This felt like a short week!  Time is flying by and the end of the school year will be here before we know it. Each day we continue to add a tally to our monthly shapes, a straw to our place value pockets, and a clip to our 10's chart. A student works out the triple-digit subtraction to see how many days we have left and we are constantly surprised by how fast this year has flown by. We are down to our last 13 days of school (with the last day being a modified/short day of Field Day and Family Potluck).
We completed our geometric shapes unit with a final project. Students cut out a variety of shapes this week and put them together to see what they could create. Sometimes two like triangles make a square, etc. They turned these into an art project and then wrote about their creation.
We also started working on an end-of-the-year project for our final bulletin board display. These kindergarteners and first graders have grown by leaps and bounds this year.  Not only are they taller but they have sponged up a LOT of knowledge through all their hard work. I'm so proud to listen to them read with confidence, eagerly share their sentences for the word of the day, proudly write their thoughts, and jump with excitement for our math activities. It has been a wonderful year and I am excited for us to spend the next two weeks completing such a successful year.
Silly Hat Day as captured by Ms. Jill in the PM.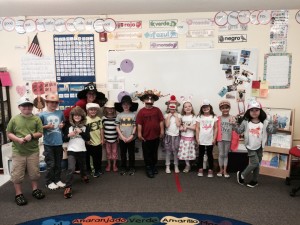 Social Studies & Science
This week we wrapped up our unit, "Presidents and American Symbols".  We learned President Theodore Roosevelt, the health problems he overcame as a child, his love for the outdoors, his work for nature conservation, and the important contributions he made during his presidency.  We learned about a few of the national parks he established during his presidency.  Don't be surprised if your child hits you up for a road trip to Crater Lake this summer!
We had fun learning about the reason teddy bears are named teddy bears.  See if your kiddo can explain the story to you.  We had fun bringing our teddy bears to school and doing a descriptive writing project about them.
Lastly, we learned about the monument Mount Rushmore, the presidents that are carved in it, and how Mount Rushmore was created and by whom.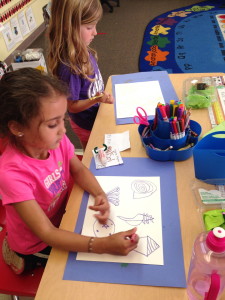 Art
The K-1 Students learned that seashells are created by animals called mollusks, and that there are 2 main types: snail shells and bivalves. So the snails that the students have already learned about are in the same family as all the seashell mollusks. We read poetry about shells, and looked as a variety of real seashells. The students made beautiful crayon drawings of seashells, and we'll add watercolor next week.