Language Arts 
We had a great time reading our ocean stories this week.  Students were able to correctly identify descriptive adjectives and then write them on the board. Their spelling is amazing!!
Students were able to correctly, and easily, categorize words into the following categories: personas, animales, objetos, lugares, and verbos.  They were also able to correctly list off all the subject pronouns that could be used to replace proper nouns, and tell why we use them.  Yay!!
We reached a hundred tallies for Spanish sentences….TWICE!!  this week.  These kiddos barely said a word in English on Friday!!  They are on fire and are having so much fun telling jokes….in Spanish!  I love their enthusiasm.
Math
We had a blast this week exploring shape solids / cuerpos. We have also added these to our daily calendar pattern. On Tuesday we explored cuerpos geométricos by sorting them and then testing them to see if they could stack / apilar,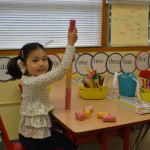 slide / deslizar,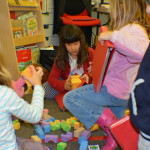 oe roll / hacer rodar.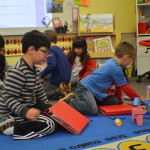 This was quite fun!  We then used our findings to complete a class table with our data.
Social Studies & Science
This week we continued to learn about George Washington.  We learned about his role as a general who fought for American independence.  We learned about General Washington leading his army to victory even though  his army was smaller than the English army.  We learned about the many sacrifices that Washington made for his country.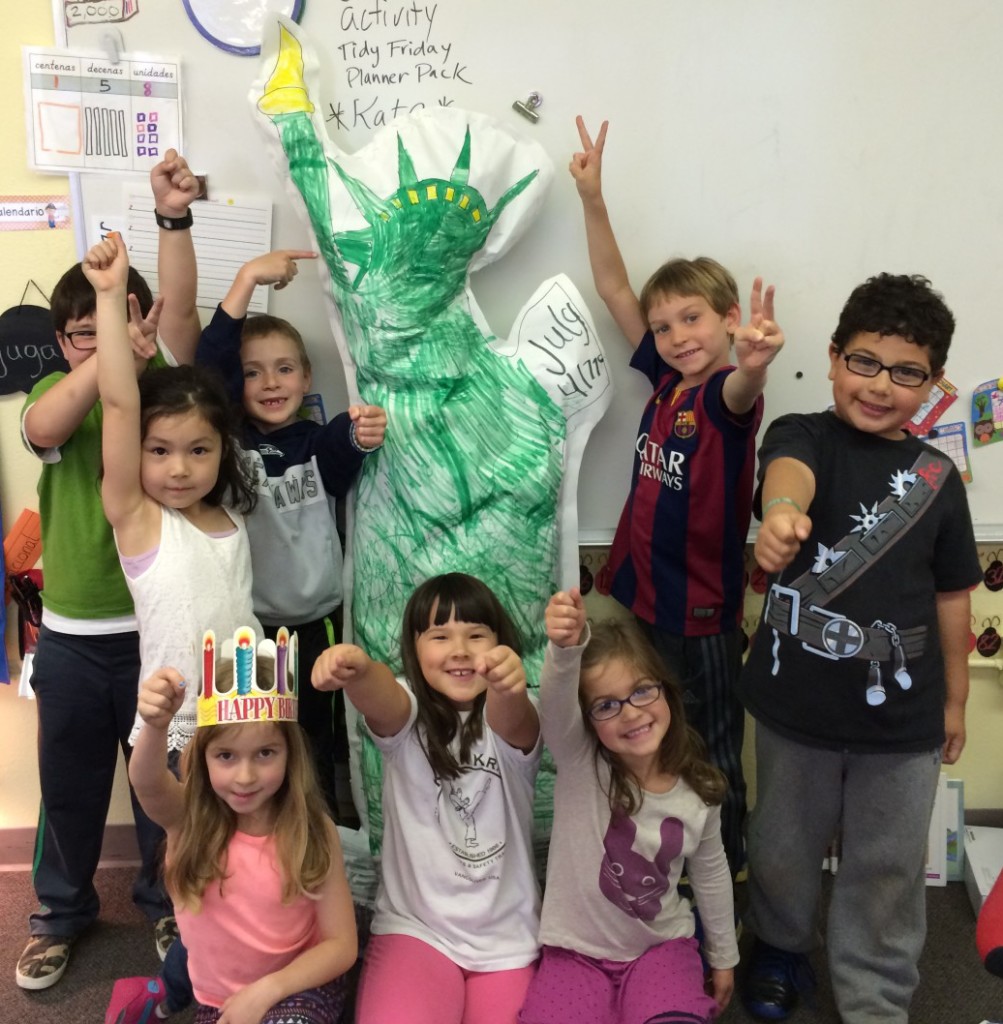 We also learned about Thomas Jefferson, our third president of the United States.  We learned about the Declaration of Independence and that Thomas Jefferson was the primary author.  See if your student can explain the purpose of the Declaration of Independence.  We also learned about the Statue of Liberty being a gift from France showing how much they admired America's love of freedom and liberty which Thomas Jefferson wrote about in the Declaration of Independence.
Lastly, we learned about Abraham Lincoln and what an important president he was.  We learned about his nickname "Honest Abe".  We compared and contrasted the three presidents we learned about this week.
In our English writing journals, we worked on imaginative stories focusing on making sure they made sense and had a clear beginning, middle, and end.  The students had fun using their imaginations to produce their own stories.
Music
New songs for this week included the progression song, "There's a Hole in my Bucket?" and "Take me out to the Ball Game."
Art
This week for art we had a substitute, a local specialist, who came to help us complete a fun project. We made tissue bowls, using sticky, scratchy starch.  This was very fun and messy!