Language Arts 
We read all about the animals of the Ocean. The book we read was very detailed and provided lots of descriptive adjectives.  We plan to use these same adjectives to describe our own beach/ocean pictures.  We received 3 of these student pictures this week.  We are hoping to have every child bring in their own beach/ocean picture for our special writing project.
Your children are doing an amazing job forming and writing their own sentences. We welcomed Ben back from a month in Argentina and his Spanish has motivated the other students to use even more Spanish!  They have decided they will reach 3000 tallies before the end of the school year and at the current rate they'll do it!
Math
We have been learning all about plane shapes by searching our room and surroundings.  Students are easily able to identify how many sides each shape has, as these are defining characteristics.  Next week we will talk about how many vertices each shape has and how that number correlates to the number of sides.
We have continued to incorporate coin identification and value into our daily morning routine.  The students are doing a great job showing the daily number in coins, in multiple ways.
Social Studies & Science
This week we wrapped up our magnet unit with a lot of magnet exploration!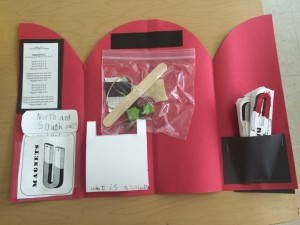 We also finished up our magnet lapbooks.  They will come home in the end of the year portfolios.  Your kiddo will be excited to share theirs with you.
We also started our new unit  on Presidents and American Symbols.  We learned about the White House being the presidents home during his/her presidency.  We learned about how Washington D.C.  became a separate district from the 50 states.  See if your child can explain the reason to you.  We learned a little about the American flag and will continue to learn more information about our country's symbol.  We learned about our first president, George Washington.  We learned the cherry tree story about George Washington and learned that it is a legend.
Character Education
We read the great book: Spaghetti in a Hot Dog Bun: Having the courage to be who you are. Our new saying, we picked up from this book, is: When you treat others with love and kindness, you are doing the right thing.
Art
Since we talked about Van Gogh's "Irises" painting last week, I brought in some real iris flowers for the students to observe. We discussed the lines and shapes and colors in these flowers. The students made crayon drawings of one blossom and added color with watercolor paint. We also had time to make a quick Mothers Day card.
Music
Using several languages, we introduced the concept of a two-group round with Frére Jacques/Are You Sleeping/Fray Felipe. We also learned a new song with movements: María Isabel.