Language Arts 
We had a great time reading an old favorite: La Gallinita Roja / The Little Red Hen. It is very important to re-read familiar stories.  This helps with not only language acquisition but also provides us with many opportunities to work on our reading comprehension skills. With this particular story we worked on sequencing the events of the story, then retelling the story in our own words.  They did a great job and even wrote sentences for each of the parts of the story!
We reviewed all our pronoun study with a brief quiz.  They did a wonderful job showing their understanding of the concept.  Sometimes we use names and sometimes we use pronouns, so as not to be repetitive.
Yo  – I
Tú  – You
Él – He
Ella – She
Usted – You (formal)
Nosotros/Nosotras – We
Ellos / Ellas – They
Ustedes – You (plural – You all)
Math
We sorted coins and the students observed there are a few version of most coins. The new nickel, with Thomas Jefferson off to the side, is a tricky one but luckily the size is helpful.
After sorting the coins students practiced counting by the value.  The pennies were easy / facil, counting by ones! The nickels were also easy, counting by fives, and then we counted by tens with the dimes.  The quarters were a bit trickier. Everyone was very familiar with 4 quarters equalling a dollar but we did need some practice with 2-3 quarters.
A fun game to play, either at a store or while looking at a store add: Look at the price tag. Ask your child to figure out what coins they could use to purchase the item.  There are numerous variations, the only rule is they have to equal the exact amount!
Social Studies & Science
This week we finished up our unit; Taking Care of the Earth.  We learned about the different types of pollution and how land, air, and water all suffer from different types of pollution and how human activities cause the pollution.  We learned that by being creative and careful, we can help reduce pollution.  See if your child can tell you ways to do so.
We learned that air pollution from one location can make even the air that is far away, in other places around the world, dirty.  We identified sources of air pollution, including cars and electricity produced by coal-fired power plants.  We learned the health risks caused by air pollution and how to reduce air pollution by conserving natural resources.
We compared fresh water, salt water and wastewater and did an experiment about the three.  We learned that all living things need fresh water to survive and that there is a limited supply of fresh water on Earth.  We identified sources of water pollution, including factory waste and garbage. We learned how a water treatment plant can remove unhealthy chemicals and pollutants from water to make it usable again.
Character Education
Community building was in full swing this week.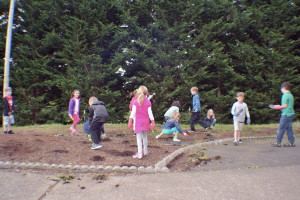 The K/1 students did an absolutely fabulous job working together in our school garden.  They were the first ones to tackle the project and jumped right in.  They rid the garden area of all rocks and wood chips. They were able to pull quite a large number of weeds and grass.  We had lots of great conversations, as we found different insects in the soil, about how the insects are working with us to make the soil better for our future plants.  They are part of our community too!
Art
The k-1 students made a "recycled" art project this week. We discussed the "reduce, reuse, recycle" information that they have been learning about. Since I had a large collection of colorful plastic lids, the students used these to create a flower pattern on a piece of circular cardboard. I will try to find a spot to hang up these colorful recycled flowers! If you have any plastic lids (that have been run through the dishwasher), you can donate them to the school – there's a cardboard box under the table in the office. Thank you!
Music
As a celebration of Earth Day we learned The Garden Song, and talked about the different activities described in the song. We also listened to El Baile Vegetal/Barnyard Dance, a bilingual song sung by Tex-Mex singer Tish Hinojosa.