Literatura
This week we had our hands full with sugar running through the veins of these wonderful K/1 students!  They certainly kept us on our toes but we were able to harness their extra energy and get a lot accomplished.  Some of our language arts objectives this week were to:
write in complete sentences using correct capitalization, spacing, and punctuation.
differentiate between sounds.
do letter sound sorts in Spanish (just like English!)
retell a read-aloud, with details, in the correct sequence
use the word of the day in more detailed sentences
identify initial and final sounds in spoken words
Matemáticas
This week we had a TON of fun with our subtraction, especially on Halloween!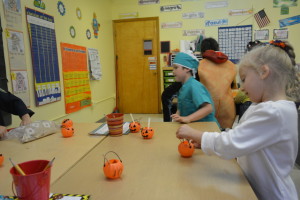 History & Geography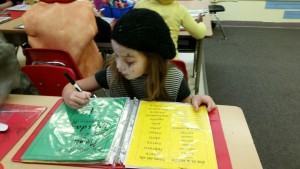 We continued our unit on ancient Egyptian civilization.  We had fun learning a song about King Tutankhamun, being archaeologists and digging into chocolate chip cookies to find the chips, and making an Egyptian headdress.
Our objectives this week were to
•  locate Egypt on a world map or globe and identify it as part of Africa
•  identify Hatshepsut as a pharaoh of ancient Egypt
• explain the significance of Hatshepsut as a pharaoh
•  identify Tutankhamun as a pharaoh of ancient Egypt
•  describe key components of a civilization
•  understand that much of what we know about ancient Egypt is because the work of archaeologists
Science
This week in our Animals and Their Habitats domain we finished learning about the rainforest and began reading about fresh water habitats.
Our objectives this week were to:
• identify three characteristics of the tropical rainforest habitat
•  explain how tropical rainforest animals have adapted to the tropical rainforest habitat
•  classify animals on the basis of the types of food that they eat ( herbivore, carnivore, omnivore)
•  classify water habitats as either freshwater or saltwater habitats
•  identify the characteristics of the freshwater habitat
English Word Work
This week in spelling the Red group worked on r and s sounds, the Blue group had the diagraphs ch and sh, and the Green group reviewed short vowel sounds.  In our journals this week we wrote about Pharaoh Hatshepsut  and Halloween. Our word wall words this week were: girl, good, but, boy, look, like, into, have.
Our vocabulary words this week were:  tradition, colonies, patterns, tomb.