Literatura
This week we read a very funny poem about a character by the name of Crispín, who does everything in funny and extravagant ways.  The poet used rhythm, repetition, and rhyme to create sound effects that are linked to the humorous illustrations.  Our language arts objectives this week were to:
discuss reality and fantasy
identify title and author
identify rhyme and repetition
write using correct spacing, capitals, and punctuation
write about ourselves
use our daily site word for complete sentences (This particular daily activity has helped the students reach 1000 tallies in their Spanish usage!! They then earned a very fun piñata!)
Matemáticas
This week we continued our exploration of numbers through number bonds, addition, and subtraction.  We took advantage of the beautiful weather and participated in some whole body subtraction.  We used number lines to count backwards for subtraction. This week we also started a countdown for Halloween.  Each day the calendar helper cuts a link and we count backwards.  This correlates well with our subtraction by counting backwards. Students also used big paperclips on long number lines at their desks to help them with seat work subtraction.
History & Geography
We continued our unit on ancient Egyptian civilization.  We had a great time making marshmallow pyramids.
Our objectives this week were to
•  locate Egypt on a world map or globe and identify it as part of Africa
•  identify pyramids and their shapes
•  explain the significance of pyramids in ancient Egypt
•  describe how the pyramids were built
•  explain that much of Egypt is in the Sahara Desert
•  recognize the Sphinx and explain its significance in ancient Egypt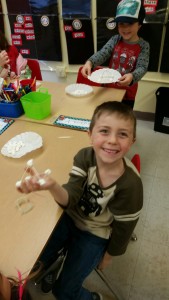 Science
This week in our Animals and Their Habitats domain we continued to learn about the rainforest. We watched a video showing animals and the sounds that they make from the rainforest. On Friday we got to taste things that come from the rainforest. Thank you to all the parents who drove on our field trip. Not only was it a beautiful day, but a great success as well!
Our objectives this week were to:
• understand that living things live in habitats to which they are particularly suited
•  identify the habitat of the salmon we talked about on our school trip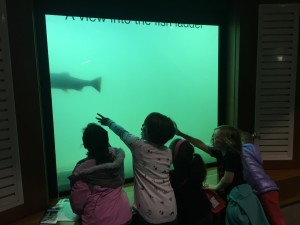 •  identify the characteristics of the tropical rainforest habitat
•  describe foods that come from the rainforest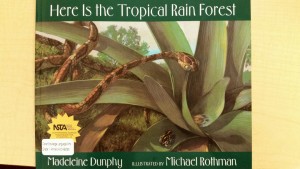 •  explain how tropical rainforest animals have adapted to the tropical rainforest habitat
•  classify animals on the basis of the types of foods that they eat
English Word Work
This week in spelling the Red group worked on n and p sounds, the Blue group had the ill, ig, and ip family words, and the Green group had the word families ish, ash, and ush.  In our journals this week we wrote about seeing the Great Pyramid of Giza and the Sphinx and our field trip. Our word wall words this week were: call, come, eat, each, fun, find, give, get.
Our vocabulary words this week were:  pyramid, treasure, Dam, Sphinx.
Specialists
ART with Ms. Kelly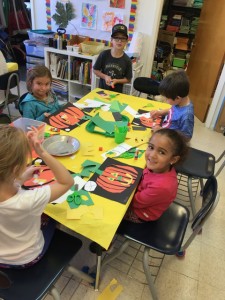 This month the K/1 students worked on observing the shapes, sizes and edges of leaves. We made leaf rubbings with oil pastels and crayons, which was challenging for their little hands but The 2nd week was easier! We talked about warm and cool colors and then the students used watercolors to paint over the crayon rubbings.  Some of these beautiful little leaves are on the bulletin board at school.
We also worked on observing, drawing, and painting pumpkins. The students made a drawing with black crayon and then mixed yellow and red tempera paint to make beautiful orange pumpkin paintings. The following week the students made a second pumpkin picture using construction paper shapes with a jack-o-lantern face. I hope you enjoy their great pumpkin art this fall season!
Next month – Picasso art projects!
Music with Ms. Erin
What we did in October:
– Learned the musical terms Staccato and Legato ("bouncy" and "smooth" sounds)
– Learned all about the ukulele, had a sing along, and learned how to play the C chord on the instrument
– Learned the story of Peer Gynt, and listened to Edvard Grieg's compositions 'Morning Mood' and 'In the Hall of the Mountain King'
– Listened to the Sorcerer's Apprentice by composer Paul Dukas
Plans for November include:
– Introduce the acoustic guitar, and sing along with guitar accompaniment
– How to recognize Like and Unlike musical phrases
– Learn about the orchestra, and the orchestra's instrument families
– Listen to Sergei Prokofiev's 'Peter and the Wolf'
– Listen to Mozart's 'Eine Kleine Nachtmusik'
Character Education with Ms. Jennie
In November, our theme for character ed will be Compassion and Generosity and we'll be setting up our 3rd Annual Giving Tree for Share. Believe it or not, it's that time of year again! Look for the tree and the gift tags in the hallway but the second week of November. Information about the specifics of the Giving Tree will also be posted in the hallway, and we'll send out more details in an upcoming newsletter as well. Our quote of the month is: "Those who are happiest are those who do the most for others." – Booker T. Washington and our featured poem is another seasonal one called "The Turkey Shot Out of the Oven" by Jack Prelutsky. Check out the bulletin board to see what books we'll be reading as well!