Literatura
This week we read and listened to the classic De colores. This poem is all about country and city sevens in which animals, people, and objects from nature are seen through a color prism. Even though colors are not mentioned by name, the pictures are tied into the rhythm, repetition and rhyme to create beautiful sound and visual effects.  Our objectives this week were:
to identify rhyme.
to create and identify rhyming words.
to identify initial and final phonemes in spoken words.
to become familiar with the sight words: mira, son, todos.
to correctly form the letters: Rr, Ss, and Tt (we spent an extra day on S).
to read with a partner and within a small teacher led group for fluency.
Matemáticas
This week we continued using different methods for addition and subtraction.  Students used tens frames, tallies, counters, stamps, blocks, etc. to show number families on number bonds. Students objectives this week were to:
take away to subtract.
count on to subtract. (counting on from the lesser number)
count back to subtract. (counting back from the greater number)
use number bonds to subtract. (using the part-whole concept  to see the connection between the parts and the whole)
History & Geography
We begin our unit on ancient Egyptian civilization this week.  We worked on a map of Egypt, had fun with hieroglyphics, and got to examine live papyrus, papyrus paper, and an Egyptian painting with hieroglyphs  on papyrus paper.  Thank you Maria, Bryce, and Ms. Kelly for sharing your artifacts.
Our objectives this week were to:
•  locate Egypt on a world map, and identify it as part of Africa
•  explain the importance of the Nile River and how its floods were important for farming
•  identify hieroglyphs as the way of writing in ancient Egypt
•  explain why writing is important to the development of a civilization
•  explain the significance of gods/ goddesses in ancient Egypt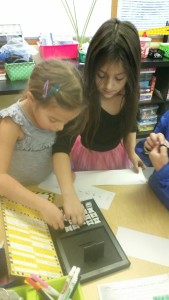 Science
This week in our Animals and Their Habitats domain we finished our temperate deciduous forest animals chapter and began reading about the tropical rainforest. We talked about the location, climate, and levels of the rainforest.
Our objectives this week were to:
• understand that living things live in habitats to which they are particularly suited
•  identify the characteristics of the temperate deciduous forest habitat
•  identify the characteristics of the tropical rainforest habitat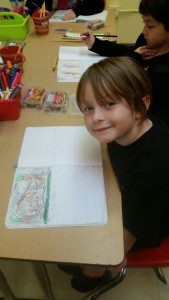 English Word Work
This week in spelling the Red group worked on l and m sounds, the Blue group had the ug, un, and up family words, and the Green group had the word families ick, ack, ock, and uck.  In our journals this week we wrote about how Egyptians used hieroglyphics. Our word wall words this week were: what, with, up, use, saw, said, so, some.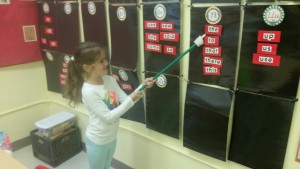 Our vocabulary words this week were:  Egyptians, canopy, hieroglyph, depicted
Just a reminder that we will have our field trip to the Bonneville Dam Visitor Center on Thursday at 9:45. Students should bring a brown bag lunch.  Parents are driving so please check the sign up sheet outside the classroom if your child needs a ride.
Apparently a little bird told that my birthday was this week. I felt very showered by love from everyone!  Thank you so much!! ~Ms. Marcie