Literatura
In language arts we continued our poetry unit by acting out our poems/songs and listening for details. Our poems this week were La abejita chiquita and  La hormiguita y Ratón Perez. We also looked for examples of capitalized words and different punctuation. First graders had the opportunity to read with me a few times throughout the week.  They should be reading on a daily basis to focus on fluency. Our objectives this week were to:
distinguish vowel sounds /e/ and /i/ in spoken words
oral blending of sounds
writing a sentence correctly on lines using correct capitalization and punctuation (2 sentences for 1st graders)
use words of the day in oral sentences (they are getting really good at this and earned another trip to the treasure box!  That's 300 Spanish sentences to date!)
Matemáticas
We practiced composing and decomposing our numbers of the day using base ten cubes, tens frames, and other classroom counters. Stu
dents practiced their counting skills by 1, 10, 5, and 2(3 is new and will be introduced later this year as a new first grade skill for us.). We put our thinking caps on (which, apparently, make a clicking noise…) and worked on solving story problems with patterns and greater than and less than skills.  Students shared with the class how they had solved the problem. We will be doing this all year in our subjects, solving problems and then sharing so classmates can learn from the different approaches used to solve problems.
Our math objectives this week were to:
make number patterns
make number bonds
History & Geography
In social studies this week we had fun learning more about the continents and  land forms. We watched a short video on land forms, read a book that we colored and took home, and made our salt dough land forms diagram. Thank you to the parent helpers who made the salt dough for our class!!
Our objectives this week were to
•  locate and color the seven continents on a world map.
•  recognize and describe the land form terms: mountains,  volcano,  rivers, lake ,  ocean,  desert , island, canyon, valley, hills, and plains.
•  create and label a model of different land forms
•  identify land forms in North America
•  identify cardinal directions, map key, and map scale on a variety of maps
Science
This week in Science we finished the Arctic Ocean and read about the Sonoran Desert.  We had lots of giggles doing a blubber experiment. The class also did an activity where they had to sort different animals into three groups: carnivores, herbivores and omnivores.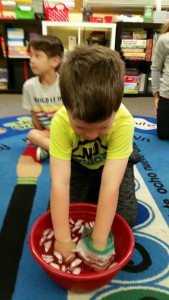 Our objectives this week were to:
• Understand that living things live in habitats to which they are particularly suited.
•  explain how some  arctic animals use blubber to keep themselves warm.
•  identify the characteristics of the desert habitat
•  explain how desert animals have adapted to the desert habitat
•  classify animals on the basis of the types of foods that they eat.
English Word Work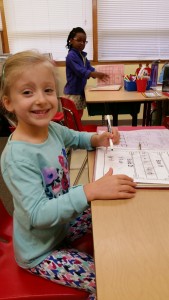 This week in spelling we divided into three groups.  Each group will have their own sort and activities that they will be working on every week.  In our journals this week we wrote about our blubber experiment and the desert. Our word wall words this week were:  at, that, he, she, it, is, in, by
Our vocabulary words this week were: blubber, continents, omnivore, and rivers