Literatura
I am so excited to get started with your amazing children in our K/1 blend.  It was a fantastic first week and I just know it's going to be a wonderful year! The students are very excited about our class tally system.  They receive a tally for using Spanish words and two tallies for a Spanish sentence.  Once the class has earned 100 tallies they all go to the treasure box.  They are very motivated by this and did a great job using their Spanish!!  They will surely reach 100 on Monday.
In language arts we jumped right back into correct letter formations, blending and separating syllables through clapping and repeating. We introduced our syllable puppet "Combo" and separated and combined syllables for common words we know and our own names.  Combo is a very funny chancho!
We will have leveled reading groups this year so assessments will be taking place throughout the next few weeks.  The students (and I) love this part of the day.  They rotate around through different stations and come show off their letter/sound or reading knowledge to me and then jump right back into their fun station work.
Matemáticas
We jumped right into our afternoon routines. This week we began our math units, working with numbers up to 10. Students will identify number words, different combinations that add up to 10, as well as work on their correct formation of the written numbers.
Don't worry if you think, "10?  My child counts to 10!"  We are doing much more than that!  We are comparing numbers, adding and subtracting to 10 and showing all the different combinations to form 10.  This solid foundation will provide a very strong foundation to build upon.
We also include math in our stations and have different groups that rotate for direct instruction time.
History & Geography
What a great start to a new year, I can already tell what a dynamic  and inquisitive class we have. They are eager to learn! This week we began by getting to know our classroom and each other.  we practiced routines, went over expectations, and did fun activities to show how we are each a unique individual that makes up an important part of our team. On Tuesday we did some fun robot activities and robot writing.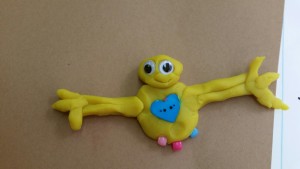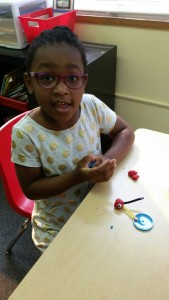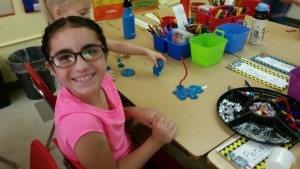 In social studies for the next few weeks we will be reviewing and learning about world geography.  We will talk about the Earth's seven continents, the four major oceans, cardinal directions of North, South, West, and East, and map symbols and legends. We will also be learning geographic terms.
Our objectives this week were to
•  understand what maps and globes represent and how they are used
•  identify equator, northern hemisphere, southern hemisphere, North Pole and South Pole.
•  locate on a map the seven continents and oceans
Science
Our first domain in science this year is on animal habitats.  We will learn what a habitat is, as well as learn to identify specific types of habitats and their related characteristics.  We will recognize different plants and animals as being indigenous.
Our objectives this week were to:
• describe what a habitat is
• Understand that living things live in habitats to which they are particularly suited.
English Word Work
The class did a short spelling inventory  this week and will begin our spelling program next week.  Our word wall words this week were "the" "a" and "can".  For our 1st graders these were review words which I am happy to say they immediately recognized.
Specialists
September Music with Ms. Erin
I'm excited to be on board teaching music this year at SWS!
For the month of September I will be introducing the Kindergarten/First grade class to music ideas involving high and low sounds, fast and slow tempo, basic rhythms, and starting Solfeggio singing.
I will bring in my electric piano for all grades to play music games and sing along with on the 3rd week of September.
All grade levels will be given custom made music theory coloring pages to have fun with and help them exercise the music terms they learn.
We will also learn to sing popular songs like Twinkle, Twinkle, Little Star; On Top of Old Smokey; This Little Light of Mine.
Art
It was great seeing everyone back at school on Wednesday, and meeting the new kindergarteners!
A special THANK YOU to Maestra Paola and to Porsche's mom, Misty, for helping out on the first day in the Art Room!
We had fun reading "Apple" by Artist/Author Nikki McClure, and the students painted their own beautiful apple pictures using PRIMARY COLORS only.
If you would like to help out in the Art Room, there is a yellow VOLUNTEER SIGN-UP sheet posted on the bulletin board by the Art Room door. The K/1 class meets from 9:45-10:45. It's great to have an extra set of hands for passing out supplies and helping the students as
needed.
As a reminder, it's a good idea to have your students wear OLDER CLOTHES on Wednesdays that you don't mind getting paint, oil pastel, marker stains on


UPCOMING SEPTEMBER ART UNIT: Art from Long Ago Cave Paintings: We'll learn about the history of Cave Painting and create our own "cave" and painting of an animal.
Ancient Egyptian Art: We'll look at ancient Egyptian art (the Great Sphinx and Queen Nefertiti Sculpture) and then create an Egyptian Scarab Beetle using collage technique.