Spanish Language Arts
This week we read ¡Vamos a buscar dinosaurios!. This is the last story of our fosil unit! our objectives were:
review antonyms and synonyms
continue working on writing descriptive paragraphs
review consonant blends bl, br, gl, gr, cl, and cr
use the comprehension strategies asking questions, making predictions, and making connections during our first read
There will be no spelling test this week!
English Social Studies and Science
Social studies with Ms. Marci
This week we continued our new unit on Frontier Explorers.  On Tuesday we did a little
trailblazing over to Fallen Leaf Lake and pretended that we were Daniel Boone and Ax Men clearing the trail to make the Wilderness Road. This week we also worked on mapping the changes that occurred during The Louisiana Territory purchase and how this affected the size of our country.
Our objectives were to
•  locate the Appalachian and Rocky Mountains, Mississippi and Missouri Rivers, and New Orleans on a map
•  understand why Thomas Jefferson wanted to purchase New Orleans
•  locate the Louisiana Territory on a map
•  understand the significance of the Louisiana Territory and purchase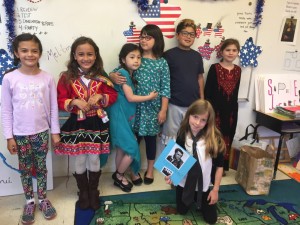 Ms. Laura's H&G group:
We talked about becoming a citizen of The United States of America, the requirements, the rights and the responsibilities.  We read and recited the Oath of Allegiance that is part of the naturalization ceremony.  We reviewed and took our unit assessment.  The results were impressive!  The students presented their Immigration Projects.  We all enjoyed the tremendous efforts and performances of the students.  Congratulations, all!  Afterwards, we snacked on foods from various countries and presented summaries of our presentations to the first graders.
Science

This week we continued our science domain on Simple Machines.  We learned about pulleys and more about gears. We had a great walking field trip to Liberty Middle School to see the Camas High School's Robotics Club in action.  We were able to observe simple machines being put to use in complex machines.
Our objectives this week were to:
•  students will develop an understanding of quantities associated with energy, movement , and change
•  understand interrelationships among science, technology, and human activity and how they can affect the world
•  understand that a gear is a wheel with ridges or teeth that connects and turns another gear
•  identify the direction that gears turn
•  explain that a pulley is a simple machine that is used for lifting heavy objects or moving   objects                                                         up and down or side-to-side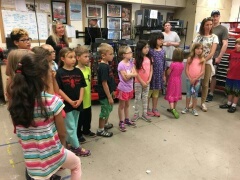 Spelling:
We took our spelling test on Friday.  Our activity this week was rainbow word practice. These were due on Friday.
For handwriting we practiced color words.
In phonics this week we reviewed parts of speech: adjectives, adverbs, and contractions.
Idiom for the week: " I'm feeling under the weather."
Thank you to the parents who walked with us to Liberty.  I hope you enjoyed this peak into a great Club at the high school.
Math
This week in the red group, with Maestra Ivary, wecontinued our unit on chapter 19 shapes and patterns!
Our objectives were:
combine smaller plane shapes to make larger plane shapes
seperate larger plane shapes into smaller plane shapes
combine and seperate plane shapes in figures
draw plane shapes and figure on dot paper and square grid paper
recognize and identify solid shapes
build models using solid shapes
combine and

seperate solid shapes
This week in the orange group, with Maestra Sarah, we flew through the rest of our subtraction with borrowing unit and jumped right into our Multiplication & Division unit.  Our objectives were:
subtract from a three-digit number with regrouping
subtract from three- and four-digits numbers, across zeros with regrouping
apply the inverse operations of addition and subtraction to check for accuracy
use equal  groups and repeated addition to multiply
make multiplication stories about pictures

make multiplication sentences

divide to share equally
divide by repeated subtraction of equal groups
solve multiplication word problems
solve division word problems
Art
In early May the students finished their Mother's Day art projects, and I know you're enjoying these wonderful Folk Art Flowers. The students worked very hard on this multi-step, mixed media project: painting the wood panel, making their own painted papers to use for the vase and flower circles, cutting out flower shapes, decorating popsicle sticks with markers for the "table," and adding hole-punch dots. Thank you to Ms. Marci for providing the wood panels from one of her artist friends!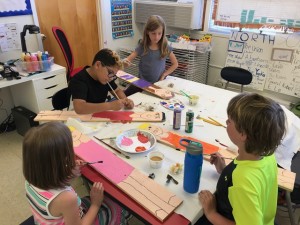 Another project that all the students have been working on this month is drawing and painting their Portrait on a fence post. Since all the students enjoy looking at the fun fence portraits that were completed last year, Maestra Sarah wants to continue the portraits on the new part of the fence at SWS. This has provided a good opportunity for the students to learn about drawing facial features: shapes of eyes, the space between eyes, spaces between eyes, nose and mouth, hair texture, etc. The challenge has been fitting the figure into the 6" x 36" size of the fence post, and also painting on the rough wood surface. The students have done a great job with their unique portraits and fun fashion designs!
The 1st and 2nd graders also made some wonderful portraits of our SWS mascot, Lily! The students learned how to use basic shapes to draw Lily's head and shoulders, and then they created her fur by using "dabs" of paint to create texture.
The students continued working on their drawing and painting skills in their pictures of our national symbol, the Bald Eagle. We looked at Andy Warhol's print, "Eagle," and also several photos of eagles. We discussed the difference between a bird of prey and the bluebirds and goldfinches that the students painted last month. The students again did a wonderful job using basic shapes for drawing, and using their paintbrushes to create "feather" texture in these beautiful birds.
Watercolor Resist: We talked about the upcoming summer season and trips to the beach. The students made a still life drawing of an actual beachball, bucket and shovel, and some sand dollars. We tried overlapping these shapes to create depth. The students used crayon first and then watercolor to paint some beautiful summery art! These will be on the bulletin board at school, and I will send home their "Lily" paintings and Eagle paintings next week.