Language Arts 
This week in language arts we finished publishing our fairytales. This final project of the year is a culmination of what we have learned since September. The kiddos were able to demonstrate their ability to produce soundly constructed sentences with: proper noun/verb agreement, correct masculine and feminine adjective usage, correct article usage, correct punctuation, figurative language and correct spelling. They put a lot of time and effort into this project. I'm so proud of them! All of the kids did a wonderful job!
We also had a really successful editing session on our spelling sentences this week.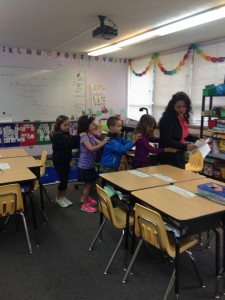 We discussed that when they edit their sentences or any of their writing they are essentially like editors that edit books and newspapers. They were then able to give examples of types of mistakes that they would be looking for. Everyone that finished their homework on time got to ride our new Spanish editing train, the Choo Choo Caboose. Their spelling homework was their ticket to get on board. Ask your kiddo about the train.
Summer spanish readers:
I will be sending home five A to Z spanish readers for the children to read over the summer. This will help them to stay fluent with their reading so when school starts up in September they will be ready to hit the pavement running! Please make sure the kids look up any unfamiliar words.
Math
 In math we finished our unit on kilograms and grams. We weighed different types of fruit on our scale and then found the weight difference between each of them. We also started our unit on volume and discussed how volume is the amount of water or liquid in a container/recipient. On Thursday we did a fun water experiment outside showing that the volume of a liquid remains unchanged when poured into different containers. Ask your kiddo to demonstrate it for you at home.
Social Studies  
Our last unit has been Civil Rights Leaders.  It has prompted some very passionate classroom discussion on injustice and how this effects people.  We have learned about  Susan B. Anthony, Eleanor Roosevelt, Jackie Robinson, Rosa Parks, César Chávez and Dr. Martin Luther King.  We listened to King's "I have a dream…" speech in class.  We related King's  ideals to the Louis Armstrong Song "What A Wonderful" world, which we also listened to while reading an illustrated book of the song.
Science
This week we finished our Simple Machine unit.  We learned about the pulley, lever, and the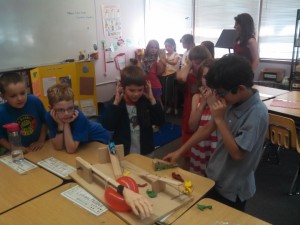 wheel and axle.  We did some activities exploring these machines.  The class used a lever to lift one another, moving the fulcrum to different positions and noting how this effected the effort to lift the load.  We tried moving a heavy box by pushing it across the floor and then tried putting it on a set of wheels and axles to demonstrate how these simple machines can make our work easier to move things.  We watched several simple machine short videos, made a simple machine riddle, did a folding book to practice vocabulary and took a quiz.  We finished the week with our Invention Day.  Everyone seemed to really enjoy the creative process that went into this project and it showed in their end results.  What a great way to end our science learning for the year.
English Spelling/Writing
During our writing and spelling time this week we studied for, and took our last Spelling test for the year!  Everyone has done very well in spelling. For summer practice  I would suggest going over our Word Wall Words  to help everyone know the words most commonly misspelled in English and to have your child start a summer journal in order to keep up their writing.  Our class has really enjoyed journaling through out the year, so I think having them do a summer journal would be an easy sell.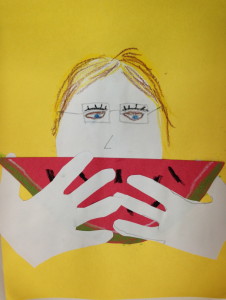 Art
The 1-2 class also made a "watermelon portrait" using the collage technique. We reviewed basic shapes and spacing of facial features, and the students did a great job creating fun summer portraits. I have really enjoyed working with this creative group of students, and look forward to seeing everyone in September. Have a wonderful summer!