Language Arts 
This week we started revising and editing our fairytales. Some of the kiddos even reached the publishing step in the writing process. The children also illustrated the cover of their fairytales. Take a look on the bulletin board outside our classroom to see their covers.
Dialogue punctuation was also one of the things we discussed this week. We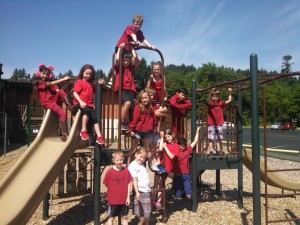 reviewed how in Spanish, rayas (-) are used instead of quotation marks. For example, -Tengo hambre -dijo la liebre. In English it would be written, "I'm hungry," said the bunny.
We also had an amazing peer conferencing session when editing our spelling sentences. This week we divided into three editing teams. One team focused on looking for errors in noun/verb agreement. The second team focused on finding errors in feminine/masculine adjective usage. Finally, the third team focused on correct feminine/masculine and plural/singular article usage. This is an on going process and the students are getting better and better every week.
Due to the kiddos all receiving 100% on their spelling tests last week we will have no new spelling words this week. Have your child continue to practice the list on the last newsletter. We will take that test next week on Friday 6/5.
Math
This week we continued our unit on metric measuring. The kiddos practiced comparing the lengths of objects in centimeters and then practiced finding their differences in lengths by using subtraction. We also practiced using bar models to solve real-world problems involving addition and subtraction. To give the students more practice in this area, I sent home a math packet. Please have your child finish this at home and do his or her best to have it finished by Monday.
Social Studies  
We continued our immigration and citizenship journey this week.  We read about ethnic neighborhoods and discrimination against immigrants.  We discussed the important role that immigrants had in developing America during the 1800s, taking a look at some major building projects of the time (i.e. the transcontinental railroads, Brooklyn Bridge and New York subway tunnels).  Students learned about the Homestead Act and how immigrants moved from the big cities to the Great Plains to become farmers.  We also learned about Andrew Carnegie and Dr. Albert Sabin, two immigrants who made great contributions to the country.  We also discussed next week's immigration reports and ways each student can enhance their presentation.  On Friday students were able to work on these in class and do some research on the computer.
Science
This week we reviewed what we have learned so far in our Simple Machine unit.  We went over vocabulary and definitions and came up with a list of everyday simple machines that we use.  Students finished a Wedge lesson that we started last week and also worked on a Screw lesson where they made a paper model of a screw.  On Friday they watched a Simple Machine video and got a chance to use a screw driver to put a screw into a piece of wood and make observations about this activity.  Student's who finished their work early worked on Simple Machine riddles that will be on display outside of our door.
English Spelling/Writing
During our journal time this week we have been sharing entries in our journals with the class.  This gives everyone the chance to practice speaking in front of the group to prepare for their immigration presentation.  We did not have a spelling sort this week, the whole class took the Words Their Way spelling assessment that they have taken twice before this school year.  We also worked on our reading assessments as well.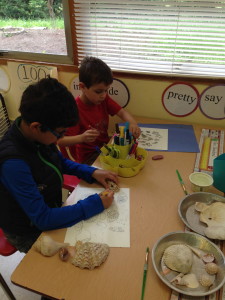 Art
The1-2 students also learned about shells this week in art. We read seashell poetry, and observed the various sizes, shapes, patterns and colors on actual shells. The students made line drawings of seashells, and will create a crayon/watercolor resist of their drawings next week. Everyone was very focused on making beautiful shell pictures!