Language Arts 
This week we discussed synonyms/sinónimos and had fun taking the flower pedals off of the our synonym garden and creating juicy sentences with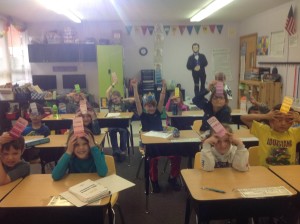 these more interesting words.
We also spent time reviewing the different things that make  complete sentences. We practiced identifying  subjects and predicates, noun/verb agreement and helping /auxiliary verbs.
On Friday we started writing fairy tales but first we  discussed the different elements of fairy tales and then started to create our graphic organizers to help us in the first step of the writing process.
Spelling/ ortografia(present tense words) Please write one sentence per spelling word. DueThursday.
baja- he/she lowers
corre- he/she runs
busca- he/she finds
duerme- he/she sleeps
sube- he/she raises
llamo- I call
comen- they eat
bebo- I drink
caminan- they walk
cambiamos- we change
Math
This week we continued our unit on fractions. We compared and ordered unit fractions using models of the same size fractions. We identified fractions that named more than one equal part of a whole. We also used models to add and subtract like fractions. Finally, we wrapped up the chapter and took the chapter exam. Next week we will begin our unit on money. 
Social Studies  
Abraham Lincoln and the coming of the war was our main focus in Social Studies this week.  Student's began reading a short chapter book on Lincoln's life, as a class we brain stormed admirable character traits of Lincoln and created a list, we learned about the Emancipation Proclamation and the impact it had on our country, we learned some Civil War songs and read poems about Harriet Tubman and Lincoln.  On Thursday we had a special treat!  Julian's grandfather, Richard Atkins, shared with the class some wonderful family history about Julian's x6 great grandmother, Hannah Varney.  She was a Quaker during the civil war and was commissioned  by the government to teach Freedmen to read and write.  Richard shared with the class pictures, coins, and transcripts from her journal recording the journey to get to her post and how this period in her life effected her and her young daughter, who was traveling with her at the time.  Thank you Castillo family and Richard for sharing this with the class.
Science
We continued to learn about electricity during science.  We read several books and did another experiment with our electrochemical clock.  On Tuesday we changed gears and focused on Earth day.  Student's made their bird feeders using some re-purposed material and we also read a short book about garbage and learning to reduce, reuse, and recycle.  We were back to electricity the rest of the week and got to enjoy "Kit Day" on Friday (a name our class came up with). This was where student's were able to share electricity kits, books, and other items they had brought in from home. individual Student's demonstrated how each kit worked and explained the process that we were observing.  We had different circuit kits, a plasma ball, books, and even a Green Electricity demonstration.
English Spelling/Writing
The class had free choice in journal writing this week,  many chose to write about Earth day and drew some lovely pictures.  Besides doing our regular sorting and partner spelling; we tried something new for spelling practice this week.  The student's made their own word scramble on Monday and then had to solve them on Tuesday.  This was a fun way to become very familiar with each word and the vowel patterns that they were learning in their sort lesson.
Art
The 1-2 students continued their clay sculpture projects this week. We discussed the differences between shape (2-D) and form (3-D), and they even told me the Spanish words for various forms such as cilindro, esfera, prisma rectangular. Then the students painted their turtle sculptures, and had time to make another clay animal of their choice. We'll finish up these great little clay pieces next week.
Character Education
Community building was in full swing this week.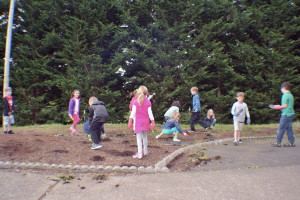 The K/1 students did an absolutely fabulous job working together in our school garden.  They were the first ones to tackle the project and jumped right in.  They rid the garden area of all rocks and wood chips. They were able to pull quite a large number of weeds and grass.  We had lots of great conversations, as we found different insects in the soil, about how the insects are working with us to make the soil better for our future plants.  They are part of our community too! 
Music
The class had just been working in the school garden, so we learned The Garden Song, and listened to ecological songs: Barnyard Dance/ Baile Vegetal by Tex-Mex singer Tish Hinojosa, and El Funeral del Río by Sariri, an Andean flute band that played for many years at the San Diego Zoo.