Language Arts 
This week we continued typing and drawing pictures for our space themed poems. The kids have really improved on their typing skills. You can tell that some have been spending time on the Dance Mat typing program!
We discussed topic sentences/ ideas principales. and how they tell what the paragraph is going to be about. The kiddos learned that many times the topic sentence is the first sentence of the paragraph.  We also talked about how all the details in the paragraph support the topic sentence. Later the children got into groups and read various paragraphs and chose the topic sentence for each paragraph.
We also edited our spelling sentences and looked specifically for correct usage of articles.  We also spent time reviewing noun/verb agreement and they kids did a great job identifying these during our time of peer conferencing. 
Math
This week we continued our unit on geometry. We reviewed plane shapes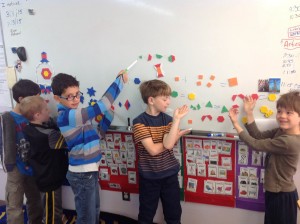 and introduced the trapezoid/trapecio and the hexagon/hexágono.  
We also combined smaller shapes to form larger shapes and we separated larger shapes to form smaller equal shapes. They had fun using wooden blocks and magnetic forms to demonstrate this.
The kiddos also enjoyed  making multiplication fortune tellers for their 2s multiplication facts. They will be receiving their fortune teller for 3s,  upon mastery of their 2s facts.
I sent home a math packet to be finished over spring break. Please have your child complete it and bring it back our first day back.
Social Studies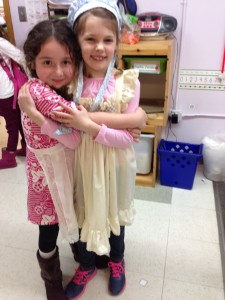 This week we finished our Westward Expansion reading and took our assessment test.  The class spent the rest of the week reading Trail of Tears and working on their Westward Ho lap book.  On Friday we had our "Pioneer" day and did some metalsmithing with tinfoil, worked on an embroidery project, and made butter; which we enjoyed eating on some "Johnny Cakes" (cornbread) brought in by Sophie. We will finish our lap books when we return from Spring Break.  We are a little over half way with Little House on the Prairie . Hopefully we will finish by mid April.  The class is really enjoying it though.
Science
We did our magnetism unit test on Monday this week.  Students did very well.  Our scientist reports were due on Friday.  I still have a few missing and I have let those students know who they are.  We finally got to do our compass experiment on Thursday.  Almost everyone's compass pointed north.  It was very exciting!  When we return from the break we will do a short unit on electricity and then move on to simple machines.
English Spelling/Writing
Great job on spelling test both this week and last.  Everyone is really working hard during our sorting time in class.  This weeks sorts were a bit more challenging then they usually are and I was pleased at how the class approached the challenge.  In journal this week students wrote a point of view story about the Westward Expansion.  Some wrote from the perspective of the Plains Indians, or the settlers, others wrote from the perspective of the buffalo or the cowboys.  
Art
The students finished their landscape pictures, using the various texture rubbings they had made. They made one picture by drawing a simple landscape, then filling in the areas with texture rubbings, and adding watercolor on top. The second landscape picture is made from cutting up various texture rubbings and making a landscape collage. They did a great job on creating both realistic and abstract landscapes. These colorful landscapes are on the bulletin board at the end of the hall. Take a minute to walk down the hall to see your student's work. Have a wonderful spring break!