Language Arts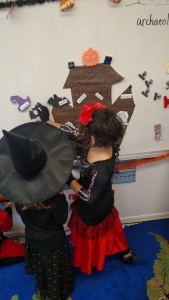 I am sure many of you have heard about leer 5 or The Daily 5. This is a new part of our day where the students move through five different reading stations with a small group. The stations are independent reading, reading with someone, listening to reading, writing, and word work. The students can read either their reading binders or another Spanish book that is at their level. The kids really love it and it gives them time in class to read on their own. This is also a great time to read their reading binder with me if they feel ready. I allow them to read with me while their group is in the reading with someone station, this way they are still reading with someone and they do not disrupt the rest of their group. We have also been reading a lot of short stories and books together as a class. The kids were so excited to read some Halloween themed stories this week including Where the Wild Things Are and Miss Nelson has Disappeared (in Spanish of course). Some of the kids had already heard these stories so it was great for them to hear the stories in Spanish and make word connections.
On Friday, during our Halloween stations our 2 reading stations involved the high frequency words we have learned so far. One game had them spelling the words out using an alphabet written on pumpkins, the other had them matching up their Spanish high frequency word to the English translation on a haunted house. The kids had so much fun matching up the words. It was the most popular station of the day!
I'm so excited to continue doing leer 5 as well as starting our new math chapter. I hope everyone has a great weekend and a very happy Halloween!
Math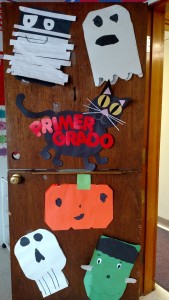 What a great Hallo-week we had! We completed our Tu eres la/el maestro/o (You are the teacher) Halloween projects. I hope you all had a chance to see them on our door this week as the kiddos worked very hard building their math stories with their partners and drawing a picture to go along with it. Each group had to come up with their own addition sentence and then pick a Halloween monster to build an addition story problem around. It was great seeing the kids working together to build elaborate and sometimes silly addition stories. At the end we all gathered on the rug to listen to each group teach the class about their addition story. This was an awesome experience as we worked on speaking in front of the class, we made sure, as "teachers", to speak clearly, face the class, and to try to answer all questions as best as we can. We also talked about what good students do while a teacher is speaking, such as listening and asking questions when confused. Everyone did so well, I am very proud of them all!
We also did our chapter 3 assessment this week, with everyone doing spectacularly! This assessment focused on addition from 1-10 (although in class we worked on 1-20), using vocabulary such as more than and less than, and understanding story problems. Next week we will begin working on subtraction from 1-10. Many of the students already seem to have a solid understanding of subtraction and I think this chapter will go by quickly!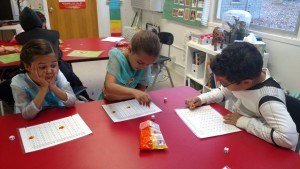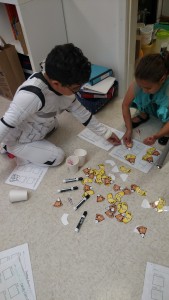 On Friday, we did math and reading stations using math games we have been learning the last couple weeks. One math game was choosing a number between 20 and 50 and then rolling a die and adding the die number to the chosen one. I was very impressed with how all students understood and were able to play this game very easily. Especially when candy corn was involved. We also played a puzzle game where we connected the answer to a math addition problem to its answer which the kids loved. We will continue to play games like this in class that I will adjust as we get into bigger numbers and subtraction.

Social Studies & Science
This week we in Social Studies we finished painting our Sphinx.  The students had so much fun mixing different shades of yellows, browns and golds to create their "perfect" colors for these little master pieces.  This activity led into more discussion about how the artists and architects of Egypt created lasting pieces of history that we can still enjoy today.  We read about the story of Hatshepsut, the first woman Pharaoh of Egypt.  The class was so intrigued with this amazing woman, who being told only men could be Pharaohs, declared herself a man.  She even had statues made of herself wearing men's clothing and a beard.  We began reading the first part of Tutankhamen's journey to become the "Golden Pharaoh and discussed the important role that archaeologists play in our understanding of ancient people and their history.
We learned all about fresh water habitats this week in science.  The class did a little experiment with water tension and worked on reading their own mini Fresh-water habitat book.  We did a webbing map as a class on what we know about different kinds of fresh water sources.  The students generated a list of different bodies of water th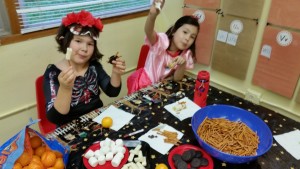 at are fresh water and what kinds of living things live in them and are dependent on them.  On Friday we celebrated Halloween with the Kindergartners and had a blast doing some "spooky" experiments and activities.  We made flubber, painted skeletons with glow in the dark paint, did a static electricity trick, heard a couple of Halloween stories, learned about Halloween safety and more.  I think everyone is now good and  ready for a happy Halloween on Saturday.
English Spelling/ Writing
Our new sorts went home this week on Monday.  Along with sorting their word, we also underlined the word families with different colors, we wrote the words each two times and we took turns doing invisible writing on our neighbors back (using our fingers as the pencil).  The class loved this last activity!
We did some free choice writing on Monday in our journals.  On Tuesday, during our science time,  we discussed what the saying "A fish out of water." meant.  The class came up with several excellent examples to illustrate this saying and they then wrote about it in their journals.  We also did a short lesson on verbs.
Character Education
This week we had a great lesson on Conflict. After watching a cute video the students were able to clearing explain what conflict looks like. We then had a great discussion.  The outcome of our discussion was:
Bubbles.  Each child/person has a personal space around them that we will call their 'bubble.' Sometimes our bubbles are popped by accident.  We just (as Eli laughingly showed us) pump them back up.  But we talked about how to avoid popping other's bubbles by sitting and standing a certain distance away.  We are all wiggly so we need a bubble around us for when we wiggle.
We created a poster demonstrating how to solve conflict (taking a deep breath, counting to 10, talking to the other person using "I feel_____, because______, and compromising).
We talked about how to avoid certain situations but also what to do when someone bumps us, cuts in front of us, says something unkind.
The main point is to give them tools to solve little conflicts.  We also talked about the right time to talk to the teacher and this is when there is a safety concern or if any hitting, pushing, kicking occurs.
Art
In 1st Grade art, we looked at Kandinsky's circle paintings, and the students learned that he used simple colors and shapes to create abstract art, rather than making realistic paintings of people, landscapes, etc. The students made a "Kandinsky Tree" by using construction paper and layers of circles. We enjoyed looking at these colorful abstract trees on the whiteboard.
Music
The class learned a Chilean folk song about a turkey, "Pavo, Pavo." We then used our rhythm instruments to provide accompaniment to the new song and several others from our repertoire.