Language Arts 
This week we started our daily 5 in reading. This is where we have 5 reading stations in the classroom that the students rotate through during our reading time each day. The stations are independent reading, reading with a partner, listening to reading, writing work, and word work. The kids really seem to love it and it gives them a set chance every day to read with me as well. They have mostly been reading their books in their binders but I have also set out some books that we have dead in class together. We are still trying to remember all the instructions for every station but I am sure by next week we will be jumping into our stations right away. Please remember to encourage your student to read at home with you or by themselves as much as possible!
Math
This week we began talking about story problems, all of the students were very comfortable with story problems and were even able to make up story problems on their own on Monday. Because of this I decided to start a fun little project in math called Usted Es El Maestro or You are the teacher. The kids split into partner groups and came up with their own math sentence and story  problems (we have also made them Halloween themed!). Next week the kids will be sharing their story problems with class and teaching each other how to work through them. It had been so much fun to see the kids working together to come up with their own stories. We will be hanging up our math story problems on our classroom door next week, so make sure to keep an eye out for them!
We of course also had so much fun doing the pumpkin run this week! Our class total was 64 laps! On Thursday after the run we talked about how the run was for each student and then wrote about it in our journals. I'm so proud of all the kiddos!
Social Studies & Science
This week we continued to learn about Ancient Egypt.  On Monday we studied more about how the hieroglyphs worked and practiced decoding some words.  We then had fun drawing ourselves in the way an ancient Egyptian artist might have done on pretend papyrus paper and writing our names next to the image in hieroglyph form.   We also read a story about Tutankhamen when he was a child.  On Tuesday we learned about Amon Ra, the god of the sun.  We discussed how the gods were often depicted with the heads of animals and how the people would make offerings to certain gods in order to protect them from the animal in their environment (i.e. To Sobek, with the head of a crocodile, to save them from the crocodiles in the Nile river).  We then added a picture of the Egyptian gods to our civilization chart and compared and contrasted Mesopotamian gods to those in Egypt.  At the end of the day we had fun "Walking Like an Egyptian" at dismissal.  On Thursday and Friday we read about the Great Pyramids and the Sphinx.  The class loved creating their own Sphinx in clay.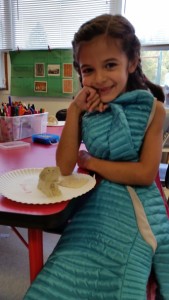 We finished up our study of the tropical rain forest this week.  The class worked on learning more about the different layers of the rain forest and what animals live in them.  We enjoyed some popcorn and watched a virtual visit to the rain forest on our overhead projector and we drew pictures and wrote facts about an animal from one of the layers. We made a rain forest Kapok tree for our door and added our pictures to it.  Take a peek and see if you can find your kiddos animal.  On Thursday we reviewed what we have learned so far about all our habitats and we located the different areas on a world map where these habitats can be found.  Friday we began learning about fresh water habitats and had a visit from Crystal the 2/3 classes' pet Beta fish.
English Spelling/Writing
The class got to try some new sorting activities this week.  In honor of our Egyptian studies, we wrote our sort list in pyramid form.  This activity is a great one for your child to do at home if they would like some more practice with their words.  We also circled all the vowels in our words and underlined the consonants.    We played a quick game of guess the word on the board.  For journal writing this week we wrote about Atticus and Einstein's visit to our classroom.  The students wrote what they remembered about the turtles and brainstormed a word bank that they could use in their writing. On Friday we read about a special trip that an Egyptian family took to see the Great Pyramid and Sphinx of Giza and then the class wrote about a special trip they have taken with their family in their journals.  This week we reviewed proper nouns, vowels, and consonants.
Music
In the Houston airport, Sr. Kit met a first grader from Portland who was playing a game in which she drummed the rhythm of a song she knew, challenging her father to name the tune. For inspiring much of today's lesson, she was awarded a pair of Cuban rhythm sticks. In class, in addition to that game, we tried several rhythms on our new instruments from Cuba, including rhythm sticks, maracas and several styles of drums.
Art
The first graders finally got to work on their fence post portraits this week. It was great having the 4th and 5th grade students, and also Miss Jennie (Kate's mom), help them during art class. The students painted the faces and clothes, and we will add a few finishing details next week. Great job everyone!