Language Arts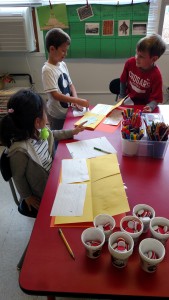 This week we read and discussed the poem "Que Sueño". This poem talked about a mole who fell asleep in his clothes on top of seven mattresses. It was a great opportunity to compare and contrast animals while learning some new vocabulary with animal names. Because this poem was so short we were also able to review the work the kids have done in the past few weeks on rhymes and syllables. It is great to see that all of the students are taking the information they learned and are able to apply it to new readings. The activity that the students most enjoyed this week though was being able to finish our fall leaf projects. We used the Otoño book we received last week as well as past journal entries to write about what we like about fall. Many of the kids talked about how they liked the leaves changing colors, pumpkins, and of course Halloween! We even created a word bank of words that we could use while writing in our projects that can also be used on our upcoming field trip! I was very imporessed with all of the hard work the students did this week and I am excited for the upcoming weeks as well!
Math
Although we had a short week it was packed with so many fun activities! In math this week wrapped up our final chapter 2 activity. All the students have a very solid understanding of number bonds and it made our transition into talking about addition and counting on very simple. To set us up for more traditional addition, which we will begin next week, we started talking about counting on. We did this a lot during our calendar time where we would count to the end of the month beginning with today's date. We also did this with the number of days we have been in school, as well as with random numbers on our number chart. This is a very simple but very important skill for the kids to learn and feel comfortable doing. Trying having your child count on at home with whatever numbers you happen to run into! Doing this with page numbers in a book, or street signs, is a great way to get them to notice numbers outside of the classroom.
Social Studies & Science
This week we have begun learning about the People of the Nile.  The class read some trade books about the Ancient Egyptians and did our daily read-alouds in our curriculum books.  We began filling in our civilization chart for Egypt and discovered that the Mesopotamians and the Egyptians had many things in common.  We also colored a map in order to identify the Nile, Tigris, and Euphrates Rivers as well as the Fertile Crescent.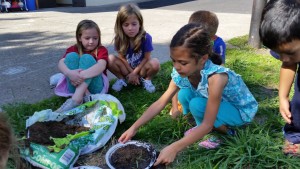 In our Habitat Domain this week we began exploring the tropical rain forest.  The class had fun using some of their senses to help them learn more about this special habitat.  On Monday they listened to the sounds of the rain forest and tried to identify some of the animals they thought they might be hearing.  We also read a Science A-Z book
Animals, Animals
together and then worked on reading it individually.  Tuesday we planted our own mini rain forest.  The class got their hands dirty, digging in the dirt and touching the different plants that went into it.  We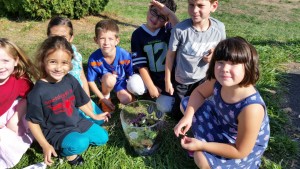 also did an experiment to understand the impact of deforestation on the soil of the rain forest.  On Thursday we talked about all the things that come from the rain forest. The class then got to taste different kinds of fruit, cashews, and chocolate, all of these having origins in the tropical rain forest.
English Spelling/Writing
We worked on a new sort this week and did several activities.  The class sorted their words into word families and practiced reading them out loud, listening for the vowel sounds.  I was impressed last week that almost everyone was able to sort their words alphabetically. I've said it before, but these are such smart kiddos! We wrote responses to our Science and Social Studies lessons in our journals.  Almost everyone wrote how I forgot to bring the lid in for our mini rain forest,  this was very amusing to everyone and journal worthy too 🙂
Music
We talked about marching bands and listened to John Philip Sousa's Stars and Stripes Forever, identifying the instruments being played. We also sang the nonsense song Mairzy Doats, as sung by Burl Ives, best known as the snowman narrator in the cartoon of Rudolph the Red Nose Reindeer.
Art
In 1st grade art, we started a couple projects. We looked at photos of Ancient Egyptian collar jewelry and used a thick paper plate to make the base for a collar which the students can wear. The students painted the plate gold and will add beads and other decorations next week. They also started their "Fence Portraits" by drawing directly on the fence post, which will be painted next week. Great job everyone!