Language Arts 
It was a very exciting week with Maestra Ivary joining our class to team teach. She is looking forward to taking over our advanced  first grade class next week.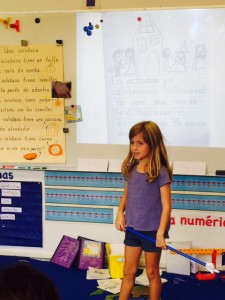 Fall is one of our favorite seasons! So many fun things to do and opportunities to enrich our word bank using descriptive language. Just go for a walk and look around. Contemplate the beautiful scenery and changes in colors.  We started our week reading  our book titled Otoño, as well as a new song titled Una calabaza. We also focused on making connections between both the song and the reading, which we used to began a fall leaves project. Have your child, not only read to you, but also sing  our song. The students were so creative that they even added a stanza!  In writing we focused on writing complete sentences using capital letters and correct punctuation. We also started using words to indicate order: primero, después, luego, and finalmente. Try to have your child use these words when describing what they did during school this week!
Math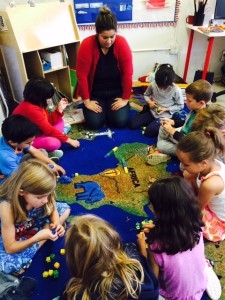 In math, using several different math tools,  we did a lot of work with number bonds. This is the ability to compose and decompose numbers.  Our kids are building great number sense, which will be crucial as we move into addition next week. We played a great game with beads and cups, where I was able to challenge the students and have multiple number bonds as well. Have your kids show you parte-parte-entero (part-part-whole) with their hands. We used these hand signals all week when talking about different number bonds. A good game to play with your kids this weekend is giving them two partes (parts) and have them figure out what the entero (whole) is. Then you can make it more challenging by giving them one parte (part) and the entero (whole) and have them figure out what the second parte (part) is.
Your child should have come home with a new math packet that goes over all of the number bond work we did this week. This is for your student to do at home and does not need to be turned back in.
Social Studies & Science
This week we were so busy!!  Lots of fun activities and experiences, I love the enthusiasm that these 1st graders bring to class everyday.  In social studies we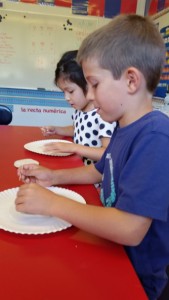 finished our Mesopotamian portion of our civilization chart, we discussed how important farming, religion, writing, and leaders were to this civilization.  We tried our hands at Cuneiform this week, we talked about pictograms and how the wedge shapes of cuneiform were developed and then  we made tablets in clay using cuneiform symbols.  We created ziggurats out of popsicle sticks and did a ziggurat maze.  On Friday we had a Market Day, where students got to trade and bargain for articles and food just like in a real Mesopotamian market.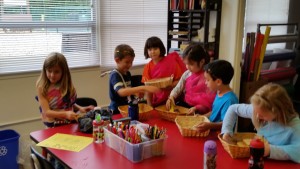 In science we began learning about the Temperate Deciduous Forests and the animals that live their.  On Monday the class went on a deciduous leaf hunt around school.  We each gathered leaves and then examined them in class.  On Tuesday we did a leaf rubbing with our leaves, these are displayed on our classroom door.  Thursday we read a book about the forest animals and we got to look at and touch a pair of shedded antlers that were found in the forest. Friday we played a game to help us review the animals of the deciduous forest and what they do in their habitat and began a class book about the forest.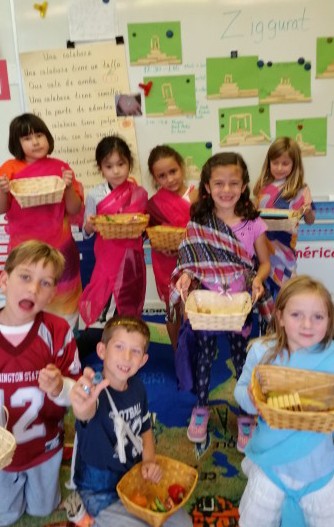 English Spelling
I am now sending an additional spelling sort home on Mondays.  I encouraged the students to use these as an extra spelling activity outside of class but this is not homework. Some suggested activities could be to sort them, put them in alphabetical order, draw pictures and write the word,  write a sentence for each one, or go on a word hunt in a magazine or newspaper and see how many of their words they can find and circle.  I would love to hear about or see what they are doing at home,  I probably could even find some special stickers to hand out for this too :).
Music
The class would like to write their own song, as the 4/5 class did when they were this age. We came up with topics ranging from raining cheeseburgers and mushrooms to blasting rockets. One of our more imaginative lyrics:
She told me to eat a squirrel
And then I ate a squirrel
And then I ate another one for fun!
It will be fun to see where their creativity takes us!
Art
The first graders finished their wonderful Scarab Beetle collages this week in art. We looked at photos of ancient Egyptian jewelry such as collar necklaces and rings that have Scarab designs on them. The students added legs, eyes, and more details with ribbon to their own Scarab beetles, and then wrote out the name of their beetle. You can see these fun insects on the bulletin board at school.
Character Education
We wrapped up our theme of Kindness this week.  We discussed how we began the year with this character trait since it is one of the most important ones to carry us through the rest of the year.  The students did a fabulous job illustrating acts of kindness on their Kindness Counts posters.  Hopefully everyone was able to check out their artwork Wednesday afternoon!