Language Arts 
This week we worked on several concepts in our oral language. We described our clothes colors and clothing pieces. We orally compared and contrasted our shoes. The changes in weather gave us the perfect opportunity to talk about what we wear when the weather changes. Next week we will elaborate on this concept, using sentence structures to compare and contrast the characteristics of objects and attributes of personalities.
We talked about our feelings and illustrated emotions with pictures and did role play, showing emotions with our faces and body.
In our Writers Workshop we talked about how writers re-read their pieces and add more details. We had a great discussion about how a writer is never really done because they can always add more details and improve their story. Student shared their stories with their peers and received feedback and comments/ compliments.
We will delve into the writing process soon.
We also made a puzzle that represents our class. We made the analogy: If we all contribute with our hard work, we will be able to complete our classroom puzzle successfully. Even though it was an abstract concept, students were able to reflect on the great impact that we make not only in our classroom but in the community and the world.
Math
In math we talked about how numbers can be represented in different ways. We talked about 10 days in school. Students learned a special sign when we form a group of ten. We used different manipulatives to show groups of ten. This allowed us to go back and review a very important concept: groups of five. We played with tallies and worked in our math journals creating mini tally books.
We reviewed the the concept of composing numbers, which will be analyzed more in depth next week, using numbers beyond ten.
Social Studies & Science
This week we have been having a great time finishing up our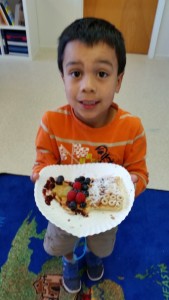 Geography unit.  We started the week learning about indigenous animals from different continents and placing them on a map.  The next day we took the data from this animal activity and made a bar graph to see how many were herbivores, carnivores, and omnivores.  We got active and danced to our direction song "Stand" by R.E.M. We also acted out different land forms with our bodies; plains were a particular favorite of the class, probably because everyone thought it was funny to see Miss Marci lying on the ground.  We read about maps and how we can use them for simple things like a map of our street or city and then for bigger scaled things like our state, country, world, or even our solar system. Our final culminating activity was making an edible map of WA state.  Next week we will begin our next unit on Early Civilizations of the World.
In Science we continue to learn about different habitats.  We learned about  the Sonoran Desert habitat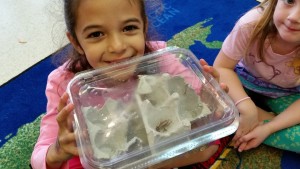 and what it takes for an animal to survive their.  Though I couldn't bring in any Saguaro cactus ,  I did bring in a small cacti that the class could test out their vocabulary word "Prickly" on.  This week we drew pictures of different animals from the habitats we have studied so far: Arctic Tundra, Arctic Ocean, and the Sonoran Desert.  Look for those on the bulletin board next week.  The class was thrilled to have a cricket habitat join our class, they loved observing the insects and asked lots of questions.  The class did such a good job of identifying the 5 things that our critters need in their habitat.  Don't be surprised if you get a request to bring our friends home over the weekend, some of the students have already asked me if they could.  We are  also learning a new song about Habitats,  I'm guessing you have already heard the chorus which is quite catchy.
English Spelling
These 1st graders love writing in their Journals.  They have wonderful ideas about what they want to write and their illustrations are pieces of art.  I can't wait to share these with you at conferences.  In spelling this week we are finishing reviewing the "it, ot, and at" families.  They sorted their words in several ways, met with me both individually and in groups, and we played word family hangman on Friday to finish out their sorts.
Art
The First Graders finished their "Cave Art" pictures this week in art. We discussed the colors that the Paleolithic artists used, and the students used different shades of brown to paint their horses and deer. They also tried painting with pieces of bark which would be similar to the tools that Stone Age artists used. We all learned how nice it is to have modern paintbrushes! Their wonderful cave art is above the bulletin board by their classroom.