Language Arts 
In language arts we read a story called Adivina que/Guess What?
We also continued writing our friendly letters. We discussed that a writer must have his or her public in mind when writing. I mentioned that when writing a letter or a story they must determine who their audience is. Since the kids are writing their friendly letters to a class mate, the letter might have a more
casual tone. We discussed that in a friendly letter you can share an event that happened or say a kind word.
Phonics: We reviewed the diphthong -io, again using our blenders to make an -io smoothie.
The kids did an amazing job speaking Spanish this week in class and many spoke Spanish at home. One of the things we did for fun in the class room at the beginning of each day was to take our pretend Spanish vitamins! The kids think it helps them😊
Math
In math this week we learned how to regroup in two digit subtraction. The kiddos practiced converting tens/decenas to ones/unidades using concrete unit cubes and ten rods. Ask the kiddos to tell you about the green ten rods and yellow cubes which were a huge hit. They continued using their place value charts as visual aids in regrouping. We also learned a fun little tune to remind us the order in which to subtract: first subtract the ones and then the tens.

Social Studies & Science
---
This week we have been building up to our culminating ancient civilization day.  We watched several animated children's history videos on the Incas, Aztecs, and Maya. On Friday we had such a good time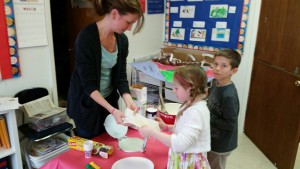 celebrating all that we have learned about the ancient civilization. The class got to try some foods that had their origins in the regions that we've learned about, they did some artwork, carving metal masks like the Incas, and they got to play some ancient civilization inspired games as well. Everyone had a great time. Thank you Jennie for all your help
We have turned our attention to the moon this week in science. We've read several books about the moon and did a classroom project on phases of the Moon. If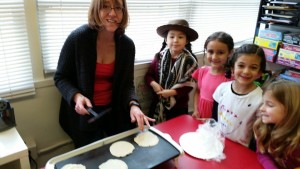 you get a chance make sure you read your child's Moon story about The Man in the Moon on the bulletin board.
English Spelling
We worked on our sorts this week, I met with students in small groups to go over how we would do the sorts on Monday. The class then sorted their words and had me check to make sure they were on track. On Tuesday everyone did a sort activity as well as an additional sorting. I am very impressed how creative the classes with sorting activities I have several students to come up with new ways to demonstrate they are learning their words. German writing this week has been free choice which everyone always seems to like doing the best. The class is doing really well at checking the word wall words to make sure their spelling them correctly.
Art
The first graders finished their dinosaur pictures today. They learned how to use basic shapes to draw various dinosaurs, and then they glued their dinosaur onto the painted background that they made a few weeks ago. They also added volcanoes, trees, and rocks to their prehistoric landscape. These great pictures are on the bulletin board at school.
Music
We worked today on a song that Sr Kit wrote: Cuando sale el sol, which leads us through a set of common early morning activities. We studied the musical notes of the song, and the fact that they represent varying lengths of time.