1st grade Important date: Tuesday 2/16 is the 100th day of school. Please have your child dress up as one might have dressed 100 years ago or might dress up 100 years in the future.
Language Arts 
This week we read a story called Voy con mi familia a casa de mi abuela or I'm Going With my Family to Grandma's house. In the story we were able to discuss the different method of transportation that was used by the different characters to visit their grandma. We then used the comprehension strategy of classifying and categorizing/clasificando y categorizando which allowed for the kiddos to put like things and ideas together to help them understand the relationships among different things in the story.
We also learned a special song to help us remember the sounds gui and gue as in the words guiso and guepard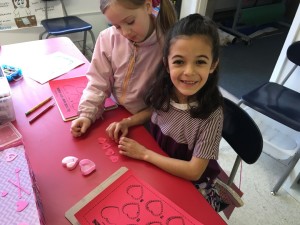 o. Ask your child if they can remember it.
We celebrated Lincoln's birthday on Friday. The students had fun reading a book about Lincoln and then they made their own books. Ask your kiddo to tell you something they learned about him.
We also celebrated Valentine's Day on Friday. The kids exchanged their valentines and played a word scramble game using valentine theme words. They also decorated valentines holders.
Math
In math we learned some subtraction short cuts. One subtraction strategy that we learned had three steps:
1. Group the tens and ones
2. Subtract the ones
3. Add the tens and ones
We also practiced some subtraction problems using a base ten block to help them to visualize subtracting a number from ten.
Social Studies & Science
We've had a exciting and busy week! We had a wonderful time going to Aladdin theater and seeing the Bodyology show with Slim Goodbody. We learned  lots of new things about our bodies systems. We also learned that Mariela could touch her feet to her head and that Mr Jesse could move like a gorilla!
In science we have been learning about the planets and our Sun. We've read several trade books about our solar system and made our own Sun book. On Friday we started making an alien and talked about symmetry. We also did a writing activity to go along with this art project.
In social studies we finished up our section on the Aztecs. We learned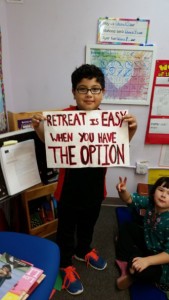 about Cortez and how he effected these people. We added more information to our civilization chart and we watched some videos that showed ancient Aztec ruins. The class could have spent another couple of weeks learning about these amazing people! Ben brought in some interesting facts about Cortez and his ships, as well as a map of his travels.  Next week we will make our own Aztec suns. On Friday we had fun joining the 2/3 grade class in the afternoon to do some Valentines games, sing some songs, read about Abraham Lincoln's life, and write a campaign speech for what we would do if we were the president.
English Spelling
This week for spelling we have been working on our sorts which have focused on the short o sound and or sounds. The class has sorted several times.  This has been a more challenging sort than  some of the others we have done.  Most of the class has done at least one activity with their words this week. We will have a test on these sorts at the end of next week. We continue to focus on our word wall words in our journal writing and our  punctuation. In in our journal we wrote a letter to someone as if we were discovering the Aztecs. We also wrote about our field trip, a love letter to a pet or a favorite animal, and we had free choice.
Art
The First graders learned how to make a couple different pop­up cards for Valentines day. They drew and cut out a heart pattern, and then used this to cut out hearts of different colors which were layered on the front of the card. The students brought home their cards and the beautiful watercolor paintings from last week. Happy Valentines Day!