Language Arts 
This week we spent a lot of time editing our Spanish animal reports. We discussed that a good writer must at times rewrite their piece many times before it's ready to publish. We also discussed that publishing or publicando is the last step before their writing is read by their public. When something is published it must be perfect and without errors. We will be displaying our finished reports next week!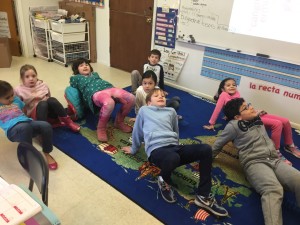 The story we read together as a class was called El cangrejo armitaño or The Hermit Crab.
This was an example of expository writing or escritura explicativa. We were able to compare this type of writing to our animal report which is also expository writing. We also discussed drawing conclusions as a type of a reading comprehension skill. The children learned that sometimes the author of a book will not give us all of the information but we must draw a conclusion from what is written. In Spanish this is called sacar conclusiones. We practiced drawing conclusions with this story.
The kiddos also spent time this week learning about nouns or sustantivos/nombres. We reviewed that a noun is a persona/person, lugar/place or objeto/thing. We then practiced identifying nouns in various sentences.
To finish off the week and reinforce our knowledge of nouns we had a fun noun scavenger hunt or búsqueda del tesoro de nombres. Ask your kiddo about it!
Math
In math we finished our chapter on numbers through 40. The kiddos did very well on their chapter test, and I'm so proud of them!
We also played a math matching game where the kids had to match a regular number with its word form, base ten form and a math equation that represented the number.
The children also took the pretest for chapter 13 that we will be beginning next week.
Social Studies & Science
This week we finished up our Maya civilization studies.  We added more info to our class's civilization chart and filled in our own individual ones as well.  We got to watch several short videos about the Maya ruins in Chichen Itza, thank you Eli for sharing a very interesting one with the class.  We also reviewed where the Maya were from, the Yucatan Peninsula, and found it on the map.  On Thursday we began reading about the Aztec and we got to hear the legend of the Eagle and The Serpent.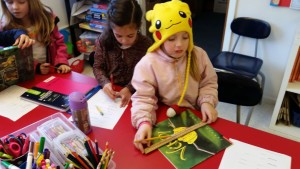 In science we have been learning about measuring matter.  On Monday and Tuesday our focus was measuring solids.  We looked at lengths, widths and the weight of a solid object.  We discussed the difference between the metric system and the customary system, or inch-pound. On Thursday and Friday we explored measuring liqiuid and talked about different types of ways that you can measure volume.  We had fun pouring water from cups, to pints, to quarts, to gallons, and back again.
On Mon., Feb. 8, we will be going on a field trip to Aladdin Theater in Portland to see the Bodyology show.  This relates to our Human Body Domain that is being covered by Ms. Leann during health.  We will meet directly there at 9:45.  As usual, families should arrange their own transportation.  I sent home a permission slip on Friday.  It would be great to get those back at the beginning of next week.  I hear great things about this show, sounds like it makes an impression on the students.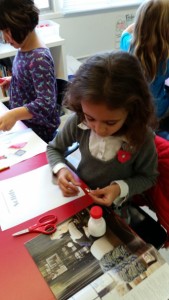 English Spelling
We did lots of free choice writing in our journals this week.  Each student in class included an entry about something they learned about the Maya.  For spelling the class got a new list on Thursday.  They worked on sorting their words in two ways and having a goal of doing two activities with their sort by next Tuesday.  We decided that we would start taking spelling t
Art
In First Grade art we looked at Pablo Picasso's "Bull's Head" which is a sculpture made out of an old bicycle seat and handlebars. The students learned that even famous artists can use recycled materials to create art. We then discussed robots, and I showed the students how to use plastic berry boxes, popsicle sticks, plastic caps, etc. to make a robot figure. Although the basic shapes are the same, each robot has its own very creative personality!