Language Arts 
In language arts we read a story called La araña/The Spider. We discussed what the main idea or idea principal w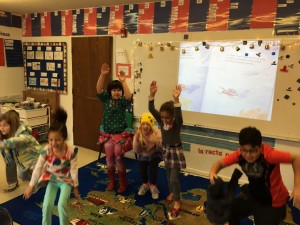 as in the story. We also talked about some of the details or detalles that supported the main idea. Ask your kiddo if they can remember the main idea of this story.
We also continued writing our Spanish animal reports. They are really doing a great job sticking to their main idea. They are also using adjetivos or adjectives to make their report more interesting.
Math
This week we reviewed our number words. The students got to play a game called math Olympics and were able to form their own numbers with a special deck of cards and then write them in word form. We also reviewed the rule for writing numbers in their 20's. Ask your kiddo to tell you what they learned about number words in their 20's. To practice spelling the 20's we played a game where the students formed teams and received number cards and raced against the clock to write their number in standard form and word form. They also had to show the number by using base 10 blocks, which were a huge hit!
We worked also on solving math problems using words for example: 15-2=13 or ___ es igual que dos menos quince.
Social Studies & Science
This week we read more  about the Maya civilization.  We heard information on the Festival of the first star, and heard a Maya story.  Students did another interactive drawing/writing exercise about what they have learned so far in our readings on this ancient civilization.  Each student wrote a sentence or two and then traded their paper with someone else and then made an illustration for that person's sentence.  This was a great way for students to have a discussion to clarify what they were trying to say and draw and allowed them to edit their writing if need be.  This also turned into a lesson on the use of carets in our writing.  We added religion of the Maya to our civilization chart as well.
For Science this week we had a demonstration on how water is different depending on the state it is in.  Students got to explore balloons filled with the three states of water (vapor, liquid, and ice).  We had fun outside finding out how each of these balloons would react when they were broken.  They did a worksheet on the three states of water and made a bracelet representing those. We finished reading our Matter book this week, after reading it together as a whole group, students practiced reading it with a partner when they finished other work early in class.  We also began talking about measuring matter, with a look at volume, temperature, length, and weight.
English Spelling
Students got their new sorts on Thursday this week.  You should have seen a copy of it in their take home folder.  Several of our kiddos have been doing extra practice with their sorts at home and are bringing them in for me to see.  I like to make a big deal about these and give them stickers and credit for taking the time to practice away from school.  If your child is doing sorts at home please send me a brief note about it or have them bring in any work that they have done and I will celebrate them too!
In our journal writing this week we listen to the book "What a Wonderful World"  based on the Louie Armstrong song and talked about how Martin Luther King had a dream about making our world a better place.  The class then wrote about what dream they have to make the world better for everyone.  We also wrote a festival or fair that we had been to before as a response to our Social Studies readings on the Festival of the first star.
Art
The first graders finished their "Winter Birch Tree" art project. These look so nice on the bulletin board by the water fountain at school. Great job everyone! We also had time to practice mixing colors using primary colors to make secondary colors, and also adding white to make pastel colors. We'll use these color sheets to create an Eric Carle animal collage in a couple weeks.
Music
The class discussed the use of different instruments in the orchestra to represent different themes. We then read a book and listened to a recording of Sergei Prokoviev's Peter and the Wolf.