Language Arts 
I had such a great time being back in the class room with your children! Thank you so much for entrusting me with such precious gifts!
This week in language arts we continued reading our story Los mapaches/ The Raccoons and also read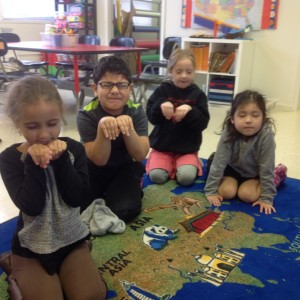 Las crías de los animales/Baby Animals.
We also introduced the use of adjectives. We kicked off the topic by watching a cute animal video on descriptive words. We discussed how adjectives make our writing more interesting and put this into practice by adding some describing words to our current writing project about Raccoons. We also did some brainstorming and came up with some words we could use to describe people.
Please be sure and sign your child's planner when they have spoken spanish at home so that their name can be moved up on the "Excelence Chart".
Math
In Math we started our unit on ordinals 1st-12th. We had tons of fun learning the "12 days of Christmas" in Spanish to put our knowledge of ordinals into practice! Ask your child about the Christmas lights we made in class using our ordinals and the ordinal Christmas tree they made on our classroom door. We also practiced using the words ante/before, después/after and entre/in between. The kiddos seemed to have difficulty with the word ante so to get some practice we played a game where the students were given a number and then had to go up to the giant number line in the front of the room and show the class the number before, after and in between the number they were given. We also did a similar activity using the placement of the students. The kids lined up in front of the class and I photographed them and then projected the image of them on the white board and then I asked them to say which student was in front behind and in between.
Social Studies & Science
This week we wrapped up our unit on Early Civilizations.  On Monday we reviewed the civilizations Mesopotamia and Egypt by reviewing our civilization chart.  We also took one more look at the three religions by studying our Compare and Contrast worksheet.  The class did a great job of noting key elements that we have learned.  Tuesday was our assessment, it was a big one and I was so proud of how hard everyone worked on it.  They did very well.  On Thursday we went over the assessment in class and talked about the questions that some of us had a difficult time with.
In science we have been working hard on finishing our whale studies.  The class put together all their work sheets to make a book of information that they can take home.  They all have been practicing reading it on their own and with each other.  We watched a wonderful movie by the BBC on Humpback whales on Friday and listened to them "sing".  We read several books about different kinds of whales this week and put together a whale dictionary.  We have had so much fun with our Ocean unit.
English Spelling/Writing
Lots of journal writing lately.  We have had some wonderful ideas for entries and the students have had fun with them.  Friday they brought their journals home to share with you over the weekend.  Please remind your child to bring them back on Monday.  Enjoy reading them too!
We have been working on vowel's "o, u, e" this week in sorts.  The class has been sorting and writing them down and circling the letter that makes the vowel sound with a specific color.  We figured out that the word from was an oddball and needed the same color as the "u" sound.  We have been doing Zoo Phonics in class, it is a great reinforcement for these vowel sounds and as well as all our letter sounds.  It is fun to do too!
Along with all these activities we have been working on a little seasonal activities too.  We have been busy little elves.
Remember Fridays are sharing days in class.  If your child would like to share something related to what we are learning or have learned they are encouraged to bring it in on this day.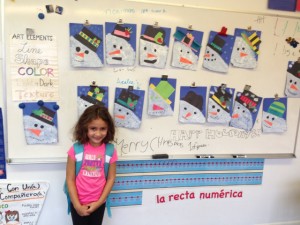 Art
The first graders learned how to create a snowy texture using a sponge and white tempera paint. We compared this technique to last week's snowmen using watercolor and salt. The students made a close­up view of a snowman's head and then added a hat made from construction paper. We had the 4th and 5th grade students helping out, and everyone made wonderful snowmen! Enjoy these over the holidays!
Music
By popular demand, we completed an online game presenting the concept of opera through Humperdinck's "Hansel and Gretel." Students can play it at home at http://www.classicalkusc.org/kids/opera/index.asp. We also reviewed Spanish carols in Spanish, taking note of those in major and minor keys.